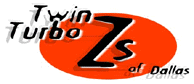 This Web page designed by: M. Damon Serkland damonz@ttzd.com
Photography, illustration, video, audio and text incorporated into the Twin Turbo Zs of Dallas online documents and publications are the sole property of Twin Turbo Zs of Dallas, 1700 Linden Denton, TX 76201.
Downloading, screen capturing, linking, or copying these items in any manner for any use other than personally viewing the original document in its entirety is prohibited without the expressed written consent of the Twin Turbo Zs of Dallas.
RESTRICTED RIGHTS LEGEND
The name Twin Turbo Zs of Dallas or the Twin Turbo Zs of Dallas logo may not be used in advertising or publicity pertaining to the distribution of this information without prior, specific written permission. Twin Turbo Zs of Dallas makes no representations about the suitability of this information for any purpose. It is provided "AS IS".
In no event shall Twin Turbo Zs of Dallas be liable for any special, indirect or consequential damages or any damages whatsoever resulting from loss of use, data or profits, whether in an action of contract, negligence or other tortious action, arising out of or in connection with the use or performance of this information.
Twin Turbo Zs of Dallas assumes no responsibility for errors or omissions in this publication or other documents which are referenced or linked to this publication. Nor does Twin Turbo Zs of Dallas make any commitment to update the information contained herein. This publication and other documents are subject to change without notice.