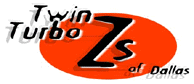 ---
Alamo Dyno Day II: Alamo Autosports, 11-22-97

We had a turnout of 7 TTs, the token NA & 1 other NA this time! The 66 degree air made for some great runs, better than the ones made back in the summer at 100+ degrees. Special thanks to Steve Webb & Bryce Yingling for making the dyno accessible at a discounted rate to TTZD & visitors. : ) If you need performance parts, call Alamo Autosports @ (817) 860-4300.

Some of the scenes at Alamo Dyno Day II:


Elane's Stage III NA

Sam's Stage V TT

Chris's new Stillen front valence

Michael's Inzane on the way in

Another shot of Jan's dash

HKS new syle blow off valve


Samuel on the dyno

Samuel's Stage III

Stillen hoses


Squirrel cage fan for cooling


The parking lot @ Alamo

Steve's intercoolers exposed!

Jan's engine bay, minus engine

Michael on the Dallas Autobahn

Chris on the dyno

Intercooler exposure on the
Stillen front valence

Samuel with beverage! :)

Twin POP exposed

Steve's new front valence
(or lack there of)

Well, nice plate anyway...
Back to Events page


© Twin Turbo Zs of Dallas - All Rights Reserved 1997