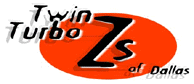 ---
Courtesy Nissan Z Day: Courtesy Nissan, 5-16-98

Really nice day to be at Courtesy getting the Zs run through a 27 point inspection including a CONSULT test. We had a turnout of at least 27 Zs during the day, even one all the way from Houston. Rich had his 3100lb SCCA NA Z trailered out. The suspension on the thing is incredible! Discovered that quite a few of us have bad front tension rod bushings after a visual inspecion. Also a few people discovered unknown problems with their Zs while going through the CONSULT test. Afterwards, a few went to eat Bar-B-Que & chat. The Dallas Police showed up to keep us in line. Then a couple folks made it over to SpeedZone to race the go-karts & drag rails. Special thanks to Joe Flores, Service Manager & Steve Richardson, Parts Manager, for making it possible!

Some of the scenes from Courtesy Z Day:


Courtesy's lot

Steve's Z getting inspected

Some custom testpipes

Samuel's Z on the lift

SCCA Z

Michael getting chrome centercaps

Michael directing traffic

At Sonny Bryan's

More at Sonny Bryan's

More at Sonny Bryan's

Debbie's Z

Darren's 'Vette

Rich's SCCA Z

SCCA Z's underhood

CONSULT

Testpipes

Testpipes

Inspecting Marco's Z

Lance imitating a Mustang

The DPD

More at Sonny Bryan's

A passer-by (Debbie) stops to chat

Darren's 'Vette

Nice warning!

Back to Events page


© Twin Turbo Zs of Dallas - All Rights Reserved 1998