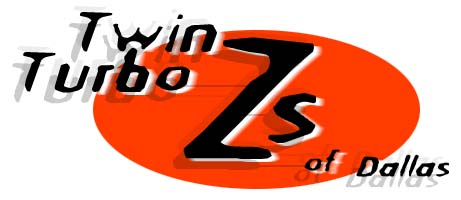 Who Are We?
TTZD started off as a loose collection of performance enthusiasts that posted on www.twinturbo.com in the spring of '97. Through a series of e-mails & phone calls, we got together for the first time May 3rd, 1997, for Dynopalooza. Twin Turbo Zs of Dallas was born as an new Z club. With the internet as our window to the world: We strive to further educate the 90+ Z community in our Technical section. Show everyone how we enjoy ourselves in our Events section. The Rides section is a display of our Zs. The For Sale section is our personal bargain bin. Some interent sites of interest are under the Links section. Finally, the News section is my personal recount of happenings here. Locally: we gather to help each other with mostly Z related issues & enjoy our common interests together.
Just the Facts:
Founding Members:
Michael Doan
Brent Gaynor
Marco Paterson
Samuel Patterson
Damon Serkland
Russell Siebert
Karl Siebert
Rich Wiegard
Joined Members:
to many to list and track
We have a very simple set of rules governing membership:
1. Be a SERIOUS (performance beyond OEM) 90+ 300ZX enthusiast.
2. Have at least one Staged modification.
3. Have an active, personal, useable, e-mail account.
4. Live in the DFW/Metroplex area.
Note: Our title may be Twin Turbo Zs of Dallas, but NAs are allowable by the rules. Who wants to be in NADZ anyway?
Anyone that fits these criteria are invited to e-mail newmembers@ttzd.com for further info on events & meetings. The more the merrier!
We are a not for profit group. We have no treasury, anything that costs money comes out of the individual members pockets who participate. Membership is free to those that qualify.

© Twin Turbo Zs of Dallas - All Rights Reserved 2000