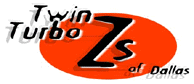 ---
11-11-99 7:35pm:
Nice get together last night at the Fox 'n' Hound. 10 Zers total. Bob (FiremanZ) was in town, so we got together to meet him. Picked up another new member, Scott... I was floored when I saw his Z! R. Straman Convertible conversion!! 'So what' you say? It's a TT that's been chopped to be a convertible. :-) Very cool!! So now all we need is a SMZ to complete the collection of Z32 offshoots. We've already got a SR-71 in the crew. I had planned to wrench on 3 cars last weekend & ended up with a yard full of Zs (10 again?). Did JeffB's PCV Valves, and already have the TECH page up for it. Put Josh's pulley on in an hour and 20 minutes. A new personal best. Also finished up Michael's test pipes with the proper hardware this time. Looking toward Ennis tomorrow night, a couple guys will be going down there for the last runs of the season. I wanted to run more this year, it just didn't happen tho. Rained out, or the gates were closed on the days I tried. Ennis will be running imports this Sunday. Kyle will be up & hopefully he gets his transmission bits shipped in so he can get everything together and tune a little bit. I fully expect low 10s if everything falls together for him tomorrow. Definitely a sight to see! Scott is going to race his convertible too. not sure who else is going to run. Wes was planning on it, but he threw a rod without warning the other day. Big bummer for him. :-( That's 2 Z cars down & out. Shahram's turbo replacement is next weekend, somehow I got recruited to be the front runner on this deal. The good news is I'll finally get to take all those pics I wasn't able to get when I did my own turbos a few years back. Maybe I can finally finish the engine removal page. :-)
Page News:
PCV Valve page is up!
10-28-99 8:15pm:
Got the pics assembled from the ZWEET salvage & the Supra dyno day @ Team DynoTech from Sunday to make some pages. Shahram is shelling out the bucks for the 'mod of the day' lately. He's working on getting some custom turbo work done now. Looks like he's headed down to Majestic Turbo in Waco this weekend to chat with them. I'm buying Rich's 2POP. His car started running funky again & he's pretty much fed up with it now. So I'll be that much closer to the limits on the stock injectors <sigh>. Greg O bought Mark of SGP's Z. Very strong build up. I think he'll be happy with it. He's already planning on going to the 1/8th mile track on Friday.
Page News:
ZWEET salvage rundown and Supra dyno day coverage.
10-25-99 9:32pm:
The Fox 'n' Hound gathering was fun. 19 Zs and 1 Supra showed up. Took up a whole row in the parking lot. Very cool. Couple drinks & some appetizers, then hung out in the parking lot chatting for a few hours. Not bad considering it was just an idea on ICQ 2 days before. Ennis was a bust on Friday & Warren ran Solo I on Saturday, while Sam M ran AX on Sunday. I opted not to go, because it was raining when I woke up. Didn't feel like driving 2.5 hours to hear 'sorry, we're not going to run today'. Sam braved it, got wet, but they still ran. Sounds like he had some fun.
We've been disassembling ZWEET (Greg F's Z) from the salvage. Steve Simmons bought the engine for the heads & cams.. Everyone else came out with some bits & pieces. Greg O. was our host for the 2 day strip fest. Nice house outside of Denton with a shop & lift. Hard core hobbyist? You bet!! Special thanks to Christine for keeping us in drinks & snacks while we were operating. I'll have a full report on that soon.
Finally got some new dynocharts! I couldn't do anything with the Area 51 charts from earlier this year, because they are on WinPEP dyno software, which has no home viewer to work off of. Oh, well. Got Chris @ Team DynoTech to print them out for me yesterday while TTZD was invading a Supra fronted dyno day. I think there were 5 Supras there & 15+ Zs. :-) Everyone was really cool, learned some about the Supra... There was 1 on the rack getting a new tranny (I think the owner's name is Anthony?). Never gotten to check out the underside of one before. Well, Shahram was trying to get 400+ out of his stock turbos & probably would have again, but couldn't get his boost to stay steady. It would peak, but not hold. He figured out his EVC was misadjusted on the way home, so we'll be making a return to dyno shortly to replicate & advance on his previous 402hp. His torque curve had huge advances on the front side, but not enough air to maintain for the peak hp to show up. I think he did his 402 @ 19psi. He was running 20 yesterday & was holding at 17. So I'd say he didn't do too bad! He's working on building up a motor next... got some pretty serious plans for it. Going to be interesting! Got pics of the dyno day too.. gotta get those on-line. :-)
Page News:
Couple new dyno charts.
10-11-99 8:53pm:
Our first meeting (get together) in a LONG time will be this Wednesday night (13th) at Fox 'n' Hound. I think we'll be meeting there around 7:00. It's on the corner of Rosemeade & Midway in Carrolton. Must be 21 to get in. So you local guys that aren't in the group & want to come meet up, we'll be there! We're talking about drag racing at Ennis this Friday (15th) and PCA AX on Saturday & Sunday. So if you can't catch us at FnH, then make it to Street Night at Ennis or AX in Mineral Wells all day long Sunday. Still looking for the 'GI Joe & Barbie' spot on tape, e-mail me. Thanks!
10-7-99 2:05pm:
Not a whole lot going on around the Dallas camp. I've been trying to get my schedule lined up so I can AX this coming weekend. I think Russell is going to run as well. Probably Warren too. I've had the TTZD garage open the past 3 weekends, 2 pullies & a partial 60k (leaking seals) for some of the guys. Just doing simple upgrade things to keep the idle hands busy. Kyle ran 10.65 in the 1/4 at Rt 66. Got to see Lance's new TT, very nice. Greg's getting a sapphire TT this weekend if all the bank paperwork is in line. Since the weather has been cooler down here, I've been driving mine more & more. I almost forgot how nice it is. =) I've almost finished the project I was talking about last month. Work has been keeping me away from getting it polished up for presentation. If anyone out there has the 'GI Joe & Barbie' spot on tape, e-mail me.
9-9-99 7:35pm:
Man, WAY too much time since the last update. Josh's cajoling on TwinTurbo.NET was warranted. :-) I made a TECH page on changing various fluids in the Z. Other then that, no new page stuff right now. I do have a huge deal I'm finishing up for the page right now. I think a lot of people will flip out over it, I know I think it's cool, otherwise I wouldn't waste my time on it. Kyle's in the 10s, saw Michael's TT, Greg totaled ZWEET, threatened SUVdom, went to the dark side & is now looking of a TT. Thank God! :-) hmmm, what else? Lance found a '93 TT (I believe) from some guy off McKinney. He says it's immaculate, can't wait to see it! We're running out of NAs rapidly. I think we're down to 2 now. :-) I'm chatting with Alamo on setting up a Dyno Night instead of a hot day. I think that might go over fairly well. Just waiting for the temps to drop some in the evenings. Got to meet Scott (JediZ(OKC)), Shahram (LRD VDR) and Wes (wesman) at the Ennis event. Tacked the latter two into the TTZD list, welcome to the club guyZ! Uh, that is all!
Page News:
Fluid Change page is up.
7-26-99 7:40pm:
Allen got his exhaust from the DSA deal a month or so ago. I finally got a short span allocated in the TTZD secret garage to pop it on. Lately, my schedule has only allowed for he very small jobs. :-( Plus the NOPI drags were Saturday night, so just had a sliver of time in the afternoon. I wanted to see Kyle get in the 10s, read previous updates for rants there. Got the exhaust installed in under 2 hours. I took my time to document it for TECH and the cats were still hot, I didn't feel like burning myself. Afterwards went out and drove his car. For the amount of time he spent looking for it, I think he came out with an excellent specimen. Drives like new, looks like new. :-) Got him finished in time to shower & split for the track. Talked my way into the pits instead of spectator parking. I hate leaving my car alone at one of those shows. Little too punk-ass for my tastes. I got to watch Kyle run a couple times. He still hasn't gotten his car on a dyno to do any tuning. They tuned in-between passes at the track. Times weren't that hot afterwards. It bogged off the line on the track, but making a launch off track resulted in the desired results. Odd. Anyway, he says he'll be on the dyno before the next event in Houston. Waiting to see 10s man! ;-)
Page News:
Since everyone is installing exhaust systems lately, I figured I'd cover one of the basics. The Cat Back Exhaust Install page is up.
7-16-99 4:15pm:
Hmmm, where to start. Got some folks blowing through Dallas as of late. Visitor 1: JaimeZX was in town for a day or two. We met up with he & traveling companion Ninda for lunch a couple weeks ago. What a trip he was having. Blew up a battery, got a flat outside of OKC on the way to Dallas. Got a replacement that, well, fit. Got to Dallas, discovered his other rear tire was almost as bad. Had to get another rear tire. Kudos to Ron at Discount for hooking him up w/ some used tread of a better size/quality to get him back on the road. Anyway he stopped by on his way through from MN to San Antonio. Starting and ending in AZ. That's some miles! Visitor 2: Rowan (Kiwi_Z from tt.NET) was traveling from England to New Zealand via Dallas. We picked him up & traveled down to SGP in Houston for the weekend. Here's the recanting. We also met up for dinner with some other local Zers on Wednesday night. Michael & his GF, Allen & his GF, me & my GF, Myke & Jim Horn (for a moment) all came out to meet/greet w/ Rowan. Now he's gotten to see 2 SR-71s, not bad for 4 days in Texas. Visitor 3: Alex Lee will be in from DE the 6th-8thish next month. Dunno what we'll end up doing with him. :-)
ZCOT meeting last night was bland, we had to find a new place to have meetings. We'll be meeting at Juan's Cantina on the SW corner of Beltline & Central from now on. The KoC hall quadrupled the rent on us, so we bailed out. I think Juan's will be MUCH better for the club. The KoC hall was bland too. I never liked going to meetings there. Juan's will at least have a full menu & liquor, KoC was burgers & beer only. Plus for me is it's on the way home from work. :-) So next month, DON'T go to the KoC hall!
Going to install my SGP tension rods this weekend. Get the front end stiffened up some & have more feel up there.
Page News:
Twin POP Install page is up
6-27-99 9:02pm:
Went AXing over the weekend.. LOL I definitely got my $20 worth out of the day.
Run 1: I'd been hanging out with the Cobra guys, they were gridded ahead of me. One came back w/ a DNF & wanted to ride w/ me to see wtf he missed. Sure, as long as you navigate for me. :-) Almost DNFed, but cleared the gate for 48 & change secs. Went kinda easy, since it's the first lap out.
Run 2: OK, Solo time... I hit it & really got moving.. only to smack the cone everyone else seemed to be hitting. I basically came to a complete stop when I hit it.. Decided it wasn't going to cause a DNF, so I continued on my merry way. Slammin' lap... 46 & change, everything felt good, no understeer, no oversteer, just right! Wish that cone hadn't jumped in front of me... considering the 2 sec penalty & the start stop time when I hit it... I'm sure I could have wrangled a 45 or possibly a 44... I would have easily won novice with that time.
Run 3: Third time's a charm right? WRONG! OK, came off of the line... a tight left-right thing to the first gate. Lined the car up for the first stretch & hammered... 1st gear... going, going, going.. second gear.. row, hammer the gas... hmmm... that's the rear of the car, but it's in front.. I know I'm not in reverse! I managed a full 180-540 degree combo move (press medium punch button twice & rotate the joystick from the bottom to the left going the long way) for maximum cone damage. I clocked at least 6 cones on the straight. A nice 3 to a side gate/corner was my victim. DNFed, but damn, I got a lot of compliments from the 'elders' on my 'smoking' ability... The Mustang guys said it looked good. I figure if I'm going to screw up, it might as well be worth-while. :-) I wish someone had gotten it on tape. Still squeezed a 54 I think. +12 secs for cones. Anyway...
Run 4: No groundloop action, but the car wasn't performing as well handling wise as the 2nd run. I manage to ease into a 48 & low change, which turned out to be my best run (including penalties).
Scored 6th this week w/ my index, so I got another square to add to my SCCA plaque. Allen, Mark, Marco, & Samuel made it out to spectate. Greg Piper scored first in Novice with a 45 sec real-time lap. Good work there! I also got to meet Craig Daugherty from Tyler.. he has a Silver NA & ran in F-Stock class.. I think he scored 2nd, not sure tho.
Russell, Karl & Warren made it up to Tulsa for the two days of lapping during the National Z Car Convention. No brake pads left & some warped rotors after it was done, but appearantly everyone came away w/ a big smile on their faces! Wish I could've gone. Damn job! Oh, hey, wait... more money for mods! ;-)
Michael Doan finally gave up on the 'all motor' approach to Z-dom. He's now the proud owner of a '94 TT he went all the way to FLORIDA to get.. Congrats! Now where're my corners??
6-12-99 11:52am:
Hmmm, too long since the last update... Well, I went & raced with SCCA a couple weekends ago. Finally got to run on the new wheels & tires. Everything seems to work out OK. I scored 4th in Novice class. My runs were consistently better through all 5, with 1 DNF in the middle (had a little over steer problem). Got to meet a NA driver who's not on the 'net, but AXs every weekend. His name is Greg Piper... he came in 3rd in Novice. :-) I don't feel too bad about my performance. I'll definitely be taking out my boost jets before the next race. When I would hit boost, the rear end was all over the place. Considering most of the lap is in 2nd gear, it's quite easy to do. Roll the throttle on, roll the throttle off! Daniel & I went down to the NIRA race last weekend to watch Kyle run. Chaz(Austin) was there too, but I could never find him in the pits. Kyle ran 11.77/76 all through time trials & the first round of elimination. I only saw that last run. Afterwards he went on to win the Power 6 class with an 11.8 I believe. OK, so Kyle's supposed to have this awesome car right? 11s??? Oh baby... lemme tell ya something. He's having to run the stock tranny valve body (it's an auto) which can't even come close to handling the HP his car is producing now. Level 10 hasn't been able to get him set up through 2 separate attempts now. Bummer. Once the car comes off the line, it's REAL slow, until the tranny can get locked down & handle the power. Once it gets hooked up... WOW!!! It absolutely flys! Kyle was even stunned by it at first. Oh, by the way, it's still streetable, full interior, AC, etc. Damn fast! So you're asking yourself: Damon, didn't you say you were never going back to one of these crummy-ass import drag shows? Yeah, I did, but the appeal of watching a Z hit the 10s is too much for me! The event itself did suck. Maybe I'm retarded & expect too much, but I know the Super Chevy domestic musclecar meets don't have as many schedule foul-ups, delays, & timing equipment failures as any of the import meets. So much wasted time. They made us park in the grass on the opposite side of the pits, I couldn't bring my water in. So I threw it away at the gate in front of the cop who gave me a copy of Super Street Import Drag BS magazine, which I promptly threw in the trash to keep my water company in front of the same cop. <sigh> They made all racers put a NIRA sticker on the side of their cars (lame), there was some dumb circumstance where Kyle basically had to join NIRA to run. Whatever, don't force me to do anything at an 'open' meet. In other local news: Warren went out & ran with Porsche Club of America a couple weeks ago by himself not sure how he did, but the car's still in one piece, so he did something right. Russell & Karl have both gotten sway bars & springs installed, they want to go run now. We just need to get the ducks in a row & schedule something. Speaking of, Rowan (Kiwi_Z on TwinTurbo.NET) will be in town middle of next month. We're planning a trip to the Temple of Zoom (aka SGP) in Houston on a Sunday & possibly making a side trip the following Monday on the way home to Shiner. :-) Stay tuned for more details on this one. Finally, TwinTurbo.NET had it's 1 year birthday, attaining 1 million hits the week before! Congrats & Happy Birthday to TTZD's baby brother!
5-16-99 9:35pm:
Had a good day at the lake for TTZD's 2nd Anniversary. Check the page for more details. That's all, over & out!
Page News:
TTZD 2nd Founder's Day page is up.
5-10-99 11:30pm:
Reschedule! Founder's Day @ lake Lewisville has been rescheduled for this coming Sunday, the 16th. Same plan as in the 4-26-99 update Check it! Got a second shot at Karl running the grill. : ) Got my race wheels powder coated. now I'm hunting for a trailer to get everything to the track in one trip. Just have to buy it new, that's going to be the only way to find what I want. Oh, well... as much money as I spent on the B&B exhaust, I have no room to complain now. :-|
5-2-99 9:30pm:
Bummer. A big storm front came through early this morning & made things drizzily/crappy all day long. Since the weather sucked and a day at the lake would equal 0 fun, I figured everyone would lay low. I apologize to those that attempted to hook up with us. :-( Tomorrow we'll start trying to work out a re-schedule of the event. :-) I spent part of the day prepping to put on my new race wheels and tires. Thought about bleeding the brakes, but thought better of it when the humidity was so high. Just asking for trouble by exposing the brake fluid to such conditions, especially in critical braking operations auto-x requires. Joe Flores at Courtesy promised a workable bleeding solution for the '94+ models. Since the ABS has no bleed nipples, you have a high point in the tubing without a way to remove air from the system. I'm bug him about it tomorrow as well. I need to continue my search for a car hauler trailer. Hopefully I can have my act together by the national convention.
4-26-99 7:27pm:
Don't forget, this Sunday is TTZD's 2nd Founder's day! We'll be out at Lake Lewisville at Pier 121 (take 121 from I-35 in Lewisville & head N/N-E till you see the signs to turn north off 121) starting around 10 am. We'll probably be near the first boat drop to the left (same as last year). We'll have hot dogs/burgers/beer. I can probably get Karl to be Grillmaster again this year. I know there's a lot of Zers out there in the DFW area that we haven't met. This is going to be the most relaxed gathering of the year for us. No race program, no tech session, just straight up socializing! What I'm saying is come on out & join us!!! That includes Alan (Gromit) & his new Z!!!! =)
Page News:
A couple more .mpgs are ready to view!
4-16-99 1:45pm:
Got the NDCC vs. TTZD drag challenge page up, my camera died & lighting always sucks there at night, so not a lot to show. We did have a pretty good time (I don't think it's possible for us to get together & not!) even though a couple people had to delay things... I guess it can happen to anyone. I'm still waiting to get a solid block of time to finish my wheels & get my G-Force mounted on them. The tires are at my favorite Discount Tire, I've petted them. :-) Just got to get the powder coating finished. I'm also looking at fabricating form fitting fiberglass enclosures to fill the void where the spare tire would normally go. Maybe pay for some race entry fees... Still looking for a trailer to haul the Green Queen on instead of trying to haul a full set of tires inside the Z, or worse yet, driving to a meet on the race tires... :-\ Just trying to get geared up to make some auto-X meets this season... I need to be going NOW, but my ducks are refusing to line up. It'll happen soon!
Page News:
NDCC vs. TTZD drag challenge page is up.
4-2-99 3:25pm:
Area 51 Performance Dyno Day was pretty fun! Check the page for the low-down. I've had a couple people request the .avis in larger resolutions... Got 1 new movie done & re-did the SuperBowl commercial in .mpg at 320x240 vs. the .avis in 160x120. Also added some links to the .avis I made from TMS a couple years ago. TMS1.avi is still killer! Very cool, check them out! Guess I need to change the title from .avis to movies or something. :-)
Page News:
A51P Dyno Day page is up, along with a couple new/changed movies in the .avi section.
3-12-99 8:05pm:
TTZD Dyno Day @ Area 51 Performance has been CANCELLED due to crappy weather. We've rescheduled for the 20th, which is NEXT Saturday. Looks like Ennis Street Night on the 19th & then Dyno Day the day after! :-) See you there!!!
3-4-99 7:46pm:
Quick one... Greg got his car back from Kyle @ SGP at the last ZCOT meeting. Kyle hand delivered it from Houston. talk about service! We went to eat at Dave & Busters with Jim, JeffB, DamonH & his roommate in tow. When JeffB & I left, we got stuck in a horrible traffic jam. I sat there for over an hour. They totally closed off the freeway. Never heard the details, I'm sure it wasn't good, as I saw 5 flatbed wreckers go by... :-( Got some events coming up! On March 13th, we'll be gathering at Area 51 Performance off I-35 and Royal (hey, that's where the traffic jam was!). I was talking to Tyler, their tuner on the phone today, while setting things up. He says they have an air-fuel ratio meter to do some tuning, but you have to weld in a spacer for a O2 sensor. I'll have to get that done to check it all out! :-) Next item is the North Dallas Corvette Club vs. TTZD Club Challenge at Ennis on April 9th. Fun! We're also starting to talk about the 2nd Anniversary of founder's Day (self absorbed huh? it's a chance to hang at the lake!!!) in early May.
2-11-99 3:40pm:
Don't shoot! Yes, 3 weeks IS too long for an update on Dallas Z action, but truth is, there really hasn't been much going on here. Here's the rundown... I'm working on setting up a Dyno Day with Alamo, but there schedule is pretty tight (they basically shut the place down for a day to handle us!), so we're working on it. We're officially set up for the NDCC vs TTZD challenge (North Dallas Corvette Club) at Ennis April 9th. $15 to get in $5 to race. It is a club race, so make sure you're really in TTZD to run! :-) I know there's a lot of Zers around here that would like to hook up with us, but we haven't had any events to meet & greet... Initiation at the track maybe? :-D Greg's car is, well, in good hands. The engine SGP bought from an alleged imported of Japanese emissions aged engines spun a bearing after 10 hours or so of driving. The company refuses to back up their warranty... just a bad situation, but SGP is backing up THEIR work regardless. Hopefully Greg will be back on the road this weekend. Jeff's car is down there right now getting a little extra 'oomph' 'installed. Stage V+ anyone? Jim got his car back from SGP & has been enjoying it thoroughly! Eventually I too will have to venture down to the temple of ZOOM! I'm still working on Rich's 2POP set-up... Getting into the 'tuning' part of it. The MAS voltage was too low & I'm having to re-drill the orifice to increase airflow to the idle control valve.. touchy stuff!
1-19-99 1:43pm:
Quick one... got the HICAS TECH page finished. Just trying to catch up on some page stuff, post holidays & inbetween projects at the office.
Page News:
HICAS TECH page added!
1-14-99 4:05pm:
Hmmm... holidays behind us now. I was on 'vacation'. Didn't get to head south as planned, big equipment install kept me local. Oh, well. Let's review shall we? I think somewhere I said 2 Z resolutions for '98. Well, I didn't so so well... I'll try again in '99 :-) 1st: Make it to the national Z convention this year. It's in Tulsa & I'm working on getting a tt.NET meeting set up somewhere towards the end of the convention (during the race days). Only a 4 hour drive from the house... 2nd: Stage V by end of year. This has taken a slight change of course... Can't really explain why, but I'm thinking of staying at Stage III ++++++ for a bit. Anyway... maybe I'll make stage IV, but the EVC... hmmm not quite yet. Does 2POP count to make it V? :-)
A couple guys are rolling down to SGP this weekend. Greg got his NA back from SGP after blowing the engine a couple weeks ago. He's taking it back down to SGP for a 'follow-up' exam. Jim is getting 555 injectors installed & a turbo bolt replaced. Some others are going along just to see the 'Temple of Zoom'. Work is keeping me busy here, so I can't go. :-(
12-18-98 5:05pm:
3 cars through the TTZD garage (LOL) on Sunday. Jeff was first, we tightened his belts. The pulley we installed the week before is U-R's second generation. The lightening holes in the rear of the pulley cued me in. I'm wondering if the overall diameter is different too, as the power steering & alternator belt are at full adjustment, not enough to pull all the slack out. Rich came by & we swapped out his entire 2POP setup to my car. The cruise stumble dissappeared, but the off-idle stumble is still there. Called JWT & he gave me a few things to look at. Once I get a sec, I'll check it all out. Finally, Michael waited patiently for us to finish & then we started in on his springs & shocks. What an experience! I destroyed my spring compressor, it was cheap, so I need to shop for a better model now. Took WAY too long to do, but now that I know all the little tricks, I can probably do the next one in 4 hours or less. Got several TECH pages in varies states of completion & a Hooters car wash page on the way.
12-11-98 2:30pm:
Sort of a milestone day today. Something I've been wanting to be finished with for a year is finally complete. Russell & I tag teamed on JeffB's '91TT to do his 60K maintenance. Got all the pics & took notes this time. We did Russell's a year ago (hence the time period), but I didn't take notes along the way. Too many small details to try and remember. So now, the 60K maintenance page is done! It covers most everything as far as replacement of items on the car. Lots of nice pics of everything & I spent a little extra time with the descriptions. It's not really a difficult job, just time consuming.
3 troubled cars in the club right now. Rich has been way down the trail with 2 different Nissan dealerships trying to get his transmission fixed. He's one got a brand new one installed, but the grinding noise persists. It's really weird, you only notice it in 1-2 gears, sounds like gear lash with some dirt in it. Not to mention a hesitation problem around 2.2K RPM. We're going to swap out all the 2POP stuff to my car (!) to see what his will do as a regular stage IV. Greg's ZWEET 2+2 died a horrible death (internal injuries) on the tollway (that's 2 Z cars lost to the Tollway now). Diagnosed with bad connecting rod bearings it ground to a halt the other day. Greg's shipping it to SGP in Houston to have the engine rebuilt & tweaked a little bit. :-) Finally, JeffB's TT is having turbo problems. Even though it's low mileage (57k on a '91TT), it's a daily driver & gets heat cycled twice a day, almost everyday... I think his is going the SGP way as well for some oversized turbos. :-)
Michael's got spring & shocks to install, depending on the weather, we might get them done this weekend. More TECH page stuff!
Page News:
60K Maintenance page is ready to go!
11-16-98 5:32pm:
Dyno Day IV & ID Dragwars 3 for '98 are behind us now. DDIV was cool, check the page. IDD3 wasn't. Oh, well, win some lose some. Looking into next year's events... I see... Dyno Day V+ & some club drag racing/auto-xing. North Dallas Corvette Club has already approached us about a Street Night event at Ennis, we'll see what we can work out. The club approach to Street Nights is much cooler than 'just showing up' as they have staging lanes just for you & actually run a contest between whoever. A little competition makes it more fun. :-)
Page News:
Dyno Day IV & ID Dragwars 3 pages are up!
11-5-98 3:05pm:
Dyno Day IV at Alamo Autosports is this Saturday. Looks like about 25 Zs will be there! Starts at 9:30am, goes till a lunch break/photo op at 12:00, & resumes around 1:00 for the remainder of the day. 3 dyno runs for $35, which is half price. Come on out, we'll definitely have a blast! For more details, check EVENTS on www.Twinturbo.NET. I'm busy installing my PrimeSpeed 3" SS test pipes to run with. They are HUGE! Not a bad fit for custom welds either. I've got 3" B&B on the back, so wrench space was limited... I went with allen head bolts to make the job a lot simpler. Now if I could only get them in metric to use on the pre-cat flanges as well instead of studs... Oh, hey, I AM wearing my safety glasses. No crud in my eyes this time. ;-)
10-21-98 5:36pm:
Quick one!
Page News:
After much review, the Pre-Cat Gutting page has been updated to reflect newer techniques developed in the top secret TTZD test garage. LOL
10-20-98 6:05pm:
Great weekend. I'm officially an autocross addict. 2 solid days of seat time. Check the page for more details! I've got to get some R1s for the factory rims I just bought. If I have more traction, I could have some really awesome times. Now I need to go find the Makamey school & take their instructions. :-) faster Faster FASTER!!!!! I also got to spend some time with Mr. K while he was in town. He signed my copy of his biography & my dashboard in my car! :-) 'Mad' Mike (ZCCA) had a small gathering at his house Friday night, Mrs. K, Kenji-San & Jonnie Gable (K's secretary stateside) were all there. It was pretty damn impressive! Got to meet Paul Gasparola (Paul at Avalon Entertainment for the www.twinturbo.net inclined) & Tony from the NE Z Club, very nice guys, was glad to put faces with the names. On Sunday there was an open house for everyone to meet & greet with Mr. K. Mike from Austin & a couple other from the Capital club were in town. Also Steve Vorencamp, ZCOT member #1 came up from College Station to say hello.
Page News:
PCA Auto-Cross page is up, also updated the Mr. K page.
10-16-98 5:30pm:
Man, oh man... Z heaven this weekend, which is good, because Z hell was last weekend... OK, so I'm REAL good with safety issues while working on my cars (& other people's). If you've worked with me before, you know I'm always wearing safety glasses while working on the car. The one time I'm not: 'Damn, something's in my eye!' I was under another Z & got a sliver of ceramic (wonder where that comes from?) embedded in my cornea. Let me tell you, that SUCKS. I finished up the job, argued with my dumb HMO (If you haven't dealt with this before, make SURE you've visited your primary care physician & are IN the program, not just enrolled) about where I can go on Saturday night & then headed for the nearest emergency room. Now if you've ever had something stuck in your eye that an 'eyewash' won't remove, you know the next part is rather unpleasant. The doc made me stare at a spot on the wall while shining a bright light in my eye for 5 minutes, NO blinking. Why? Because he's picking the sliver out of my cornea with a needle. No, don't think I'm moving a freaking muscle right now doc, just get the thing out of there without making it worse please! Thank you. Learn a lesson from me. Be VERY careful while working on these things! It might not even be ceramic, I've had all sorts of crap try & fall into my eye, but safety glasses stop most of the stuff from being dangerous. Eyes are delicate instruments & it would really suck to lose one over something that dumb. :-(
OK, now for the inspirational part! PCA-Maverick is racing on the west parking lot of Texas Motor Speedway. Two days worth of auto-X racing. The Saturday event is a 'high-speed' 2 mile circuit. We're talking over 100mph on the back stretch. Mostly 3-4 gear running, so you know the turbo guys will be hauling! The Sunday event is 'regular' auto-X on a shorter, narrower, slower track... BUT... There will be 'fast' lapping on TMS itself. They're talking 70-80mph on the high banks. This should be more enjoyable than the Z Heritage event last year!! AND the killer part is Mr. K is in town fresh from his induction into the Automotive Hall of Fame for a little visit to Dallas. If you'd like to meet him, there's an open house at 'Mad' Mike's from 12-6pm on Sunday the 18th. Hope to see you there!!!! :-)
Don't forget, Alamo Dyno Day IV is coming up on November 7th followed by the ID Dragwar on the 15th. :p
10-5-98 7:32pm:
Short one tonight... Spent Sunday tracking down a short in my brakelights, dunno how long I've been driving without them. :-( Found the problem, so now have to take it in to replace stuff under warranty. :-)
Page News:
The Ennis Street Night page is up.
9-29-98 8:30pm:
If you hadn't noticed... we're now www.ttzd.com. Figured it was only appropriate. Had a great time out at Ennis the other Friday. Met a couple new Zers & made some descent runs (13.46 @ 107), but traction was a limiting factor as I spun the tires all the way down the track. If I could get the hp to the ground... :-) Please be patient with changes around here, I'm having to go page by page to cover all the links to make sure they are pointing were they should, etc. Read the upcoming events in the next news item to se what we're up to next.
Page News:
www.ttzd.com is a reality! It's paired up with www.twinturbo.net on a dual 300mHz PII server. twinturbo 300s, how ironic!
9-18-98 5:42pm:
Damn. Let the ol' TTZD slide for too long. Sorry! New promotion has me scrambling to cover all bases at once right now. I'm still 'handing-off' the old gig, so It's been double duty. :-( Anyway... On the Z front: Jim got his Z painted finally. Nice shade of yellow, not obnoxious & not mustard, very nice job. The black trim parts are still black, so it doesn't have that total 'I've been repainted to look Euro-trimless' look. Stillen type III wing & AVS wheels (I remember those!) make it a beauty! Congrats Jim, I need to get some pics up of it. JeffB & I spent a day starting on 60k with his car. Did the plugs & fuel filter & 1 O2 sensor. Couldn't get the driver's side to come off... @#$% I finally bought the RIGHT tool for the job from Snap-On & will post the part number when I get it. We're going to do the timing belt & gut the pre cats in the next couple weeks, then install an APEX boost control. Look for upcoming tech pages. Still need to post the sway bar install page & a few other odds & ends. I've mostly been building the Rides editor for TTZD & twinturbo.net. Pretty slick piece of programming that most people will never see.... oh, well. It saves me a LOT of trying to keep up with the ever expanding club. Applying even more Z knowledge to the Jeep. Just bought Powerslot rotors for the front & am getting MM pads for all 4 corners. :-)
As for upcoming events: We're planning on going drag racing on the 25th at Ennis, it's the last street night of the year. Mr. K will be in town the 15-19th of October for the Z Club meeting, he's stateside to be inducted in the US automotive hall of fame!!! Mad Mike Taylor is going to have copies of his biography in hardcover for him to sign at the meeting. October 17th & 18th is a Porsche club event at TMS... supposedly we are going to get on the oval for lapping at 80-90mph (just enough to make the car stick on the high banks, they are going to have a 2.5 mile circuit set up in the west parking lot as well. Sounds like fun. I should have my new wheels & tires (for autocross) ready by then. I've talked to Steve Webb @ Alamo about scheduling Dyno Day IV on November 7th. Looks like a go, everyone's so busy right now, we couldn't get anything in October that wasn't Halloween, so we looked further down the calendar. Unfortunately the last ID Dragwar of the year is the next weekend, so that might cut down on the out-of-town participation. It's understandable.
8-25-98 7:04pm:
Finally got a chance to finish up the Dragwars page. Well, my Jeep had some problems during last week & forced me to drive the Z to work, defeating the whole purpose of the Jeep & taking up a lot of my time. I applied a little Z car TECH to it & discovered it too stores error codes in it's ECU. HA! Error 24 pops up, broke out the manual & there it was! The throttle position sensor was toast & causing it to hesitate & shift erratically (auto tranny for easy commute). $61.16 later (I won't go into details on all the stuff I replaced taking the 'old school' method of fixing it), runs like a champ. I wish the Z's diagnostic were as easy to access as the Jeep's. Just start the engine, take it up to 2.5K rpm, then 'coast' back down. Hold the brake, run through the 'gears' on the auto, shut it down ON-OFF-ON-OFF-ON, watch the check engine light blink. Piece of cake! :-)
Page News:
ID Dragwars II page is up!
8-21-98 12:30pm:
Sunday was the ID Dragwars. <soapbox=on> I wish event co-ordinators would figure it out that Texas is HOT in the summer & people walking around on hot asphalt for hours have a tendancy to PASS-OUT. What does this mean? This means the ONE ambulance on duty has to take that person to the nearest hospital for treatment. This is longer than an hour round trip. So? How does this affect racing??? You CAN'T RACE without an ambulance at the track. Damn, spring for two & maybe we can watch some racing!!!! </soapbox=off> Eliminations were schedualled to start at 1pm, but didn't really start until after 4pm. They didn't finish racing until after 10pm. Damn, I spent most of the day just sitting, giving Kyle grief in the pits (your welcome!). At least I didn't burn, SPF 15 + SGP TENT = no skin cancer for Damon. Thanks guys! :-) Kyle's car was once again freshly built before the race & ran much better than last time, but he's still not where he should be. Mark & Fred were running mid-low 13s, although Fred was in the 14 sec. bracket. Oooops! Broke-out, see you next time Fred. His car is very nice! What can I say, it's cobalt green pearl too. :-) Mark's Z received a minor cosmetic change. The day-glo orange trim is replaced with dark red to match the new 3D SGP logo on the door, oh, yeah, also to match the boost hoses underhood. Dragwars II page should be up shortly, but I haven't had much time lately.
The SHINERtrip is a bust for me at least. The brewery isn't normally open for tours on Saturday anymore. They will be open for the Z Clubs to tour Saturday morning at 10:30am. The clubs are planning to go have lunch afterwards. Well, crap! We'd have to leave Dallas at probably 5:30-6 to make it there. Hate to say it, but I'm out. I'll have to roll it into a vacation sometime (30k maintenance at SGP maybe?). Some of you Houston/Austin/San Antonio folks shouldn't have much of a problem, I know it's 45 min from San Marcos from experience. ;-) Drink one for me!
8-13-98 6:15pm:
Installed a pulley & Suspension Technique anti-sway bars on Greg's car last weekend. JeffB & Myke were in attendance. A TECH page on the a-s bars, coming right up! Made for a couple of greasy hours in an air conditioned garage. Ennis was a bust on Friday. We called before leaving Dallas & they said sunny skies. Well, a storm front was blowing through. First one in 32 days & most of those in the 100+ degree range. Of course, it had to dump right on Ennis as well, so no dragging on Friday. :-( We did, however, get some spirited driving done on the way to Fox 'n' Hound (out of the rain), which helped to soothe the pain, adult beverages & lots of bench racing once there helped too. We'll be getting a cara-Z together to go watch Kyle make 11.5 sec. quarter mile run this Sunday, the 16th for ID Dragwars. Plan on leaving downtown Dallas around 11:30am to make it in time for the eliminations at 1:00pm. If you want to hook up w/ us e-mail me for directions to the meeting place. Kyle is building his engine this week again, he found a couple bad lifters (ouch), so hopefully he'll go faster this time.... otherwise I'll race him! ;-) hmmmmmm what else? Oh yeah! Road trip to SHINER! on the 22nd!!!
7-28-98 7:32pm:
Finally got finished with the oilchange & tension rod pages. I've been spending a LOT of time doing research for 'Appendix Z' on Twinturbo.NET. It will be a nice guide to the TTZ jargon that we speak everyday. :) Oh, there's going to be a state-wide gathering at the Spoetzl brewery on August 22nd. What do they make there??? Siner Bock!!! The 'official' beer of TTZD (goes along with the position of Grillmaster, just a given). :-) The San Antonio Z Club will be touring up there, so it sounded like a good enough excuse to drive back to the motherland (no, I'm not kidding...). I've spoken with the Houston group & a few of them will be coming & maybe some of the Austin guys. I am a little concerned though, their website says they are closed on weekends, but I KNOW I've been there on a Saturday or two or three... More details coming up! Don't forget Ennis Street Night on August 7th & the next ID Dragwar is August 16th at Ennis too.
Page News:
Long time since... Oilchange & Tension Rod Install/Replacement pages are up.
7-27-98 11:40pm:
Worked on Jeff B's clutch this past Sunday, made it work much better, also installed a new set of tension rods. Tech pages on the rods & how to bleed the clutch coming up. Finally got the oil change page done, just need to post tomorrow probably, along with the Tension Rod page (almost complete). Kyle is helping out with the 60K maintenance page... I have a LOT of pics, but have forgotten most of the procedure... Just bought a Z support vehicle... a '91 Jeep Cherokee Larado. Good for towing the Z to the track & carrying extra tires & stuff. I bought it mostly because I can't fit a sheet of plywood in the trunk of the Z & I'm tired of putting senseless miles on the Z. Let the Chrysler product take the miles. :-) Planning on going drag racing at Ennis Street night on August 7th. Already have a couple Zs going, doesn't hurt to have a lot more!! Come on out! :) I'm leaving the passenger seat at home this time! I wanna be like Kyle LOL!! Need to get my testpipes on soon, don't have the hardware. Probably do them next week before the race.
7-23-98 1:15pm:
When it rains it pours... first the ISP, now InterNic. I got a call back from my tech at the ISP that provides service to Twinturbo.NET, everything was cool after 9pm last night. Still things were SLOW & some people just couldn't access. I poked around some more & found out Internic (who provides the 'names' for all web sites) put a hold on our DNS. &%@*!!!! Steve Simmons was on the phone this morning to find out why... some slip up happened & we'll be back at 6pm central daylight. Oddly enough, some people can still get in! Really sorry for the withdrawals... it's just my luck. :(
7-22-98 7:10pm:
Twinturbo.NET is mostly down right now. Some people are still able to access & use the forum, so traffic is slow. Our ISP is having difficulties with their carrier or something. They weren't very specific about the problem, but said it would be fixed by tomorrow morning. :( Sorry for the inconvenience!
7-12-98 5:10pm:
Went to 'Street Night' at Ennis Motorplex Fridy night w/ Greg & Myke. Greg & I raced, Myke went for moral support. Did alright for my first time out! :P
| | | | |
| --- | --- | --- | --- |
| | run 1 | run 2 | run 3 |
| R/T | 1.161 | 1.031 | 1.099 |
| 60' | 2.406 | 2.244 | 2.321 |
| 330 | 6.201 | 5.945 | 6.082 |
| 1/8 | 9.261 | 8.915 | 9.087 |
| MPH | 81.82 | 84.14 | 83.28 |
| 1000' | 11.869 | 11.436 | 11.606 |
| 1/4 | 14.049 | 13.542 | 13.732 |
| MPH | 104.05 | 106.97 | 105.31 |
Temp: mid 90s, Humidity: high, Elevation: 500ft-ish

Reasons? Right off the bat, I'd driven my car down to the 'E' light & was planning on stopping for $5 of gas on the way. Stopped & started filling & talking. Next thing I knew, I had a full tank! :( That's about 80 extra pounds I didn't need. LOL OK.. run 1 was first time out.. I was looking at Greg while he was staging & had forgotten the when the second person stages, the lights start. Ooops! Also didn't empty out all the crap in the trunk (Quick detailer, camera, briefcase...). Went back & convinced Myke his car would be a safe place to store another 25lbs of 'stuff'. :) OK, extra stuff jettisoned, I was ready for action! Run 2 was MUCH more pleasing! Mid 13's are OK, considering the full tank of gas & full rear tires, fairly representative of what I can do on the road day in/day out. Run 3 was experimental. I wanted to see if I really needed to shift into 4th at the end of the run... 7100rpm & still some track left to go, I had to shift. :( Made the top end rather flat & slowed me down. Lessons learned? Don't fill the tank right before. Have someplace to leave your accessories, aair down the tires to 22psi for better traction (that wasn't a problem w/ 80 extra pounds over the rear tires). Might be able to knock 3-4 10ths off. Of course, a set of test pipes wouldn't hurt either, they're on the way!!! ;)

7-9-98 12:05pm:
Missed out on the SpeedZone meet w/ the Supras... A couple members of TTZD made it. The NIRA drags were... well HOT! REAL HOT!! Spent most of my time in the SGP tent (thanks for the shade!). Kyle came up & ran, but didn't do so well. He didn't get any tuning time after building up his new engine, as a matter of fact he started with an engine block on a stand Thursday and had it built & in on Saturday... WOW! New TEC stage 2 turbos, JWT Racing cams & head work. Once he gets it tuned in, it'll scream! Unfortunately, the rest of the trip was even worse. :( Here's Kyle's story...
John's Girlfriend passed out due to heat exhaustion...we had to call and ambulance to take care of her...We finally left at about 6:00 after she was feeling better...had the blown eclpise on the trailer...30 minutes out of Ennis the truck blew the torque convertor....Flat bed wrecker picked us up and put the truck on the flatbed and the trailer in tow...12 miles out of Conroe about 11:30 the wrecker blew an oil seal and froze the motor...I left to go get something to drink and when I came out of the store some old man says he backed into my car...No visible damage...Back to the wrecker...they called two wreckers...one big 18 wheeler wrecker for the wrecker and anouther flatbed for the truck and trailer...The plan was to back the flatbeds together and roll the truck off becuase without the engine running the flatbed does not work...Well neither does the winch...so with no bolt cutters we couldn't get ther truck off the broken down wrecker...We had to follow the 18 wheeler wrecker to the wrecker place so they could cut the truck off the bed...got home around 3:30. :(
Looking forward to the August ID Dragwar, although it's going to be hotter... :) :| :(

6-26-98 7:35pm:
Going to be an interesting weekend. The Dallas Supra group will be at SpeedZone at 5pm on Saturday. I'm hoping to be there, but I've got a previous commitment. Looks like everyone that's coming up from Houston will be there, along with some of TTZD. :) If there's ever an Olympic event for swapping out wheels on Z cars, sign Jim & I up. We're getting faster at it, but it meant I had to relenquish the AVS wheels.. :( Have to get some chrome ones for the Green Queen. :) See you at the NIRA drags this Sunday! :)

Page News:
Hadn't thrown out a TECH article in awhile, so here's Greg F's contribution to the Z community. Shifter bushing replacement made easy! :)

6-21-98 10:55pm:
Happy Father's Day! :) My times are getting lower.. I can install an underdrive pulley in 1.5hrs now. Discovered the NA pulleys are slightly different from the TT's. NA is probably a pound or more lighter due to lack of the thicker front ring on the larger pulley rings. Jim & I still haven't swapped wheels back yet. :) Going to have to get the AVS bought & chromed... This Sunday is the NIRA drags at Ennis Motorplex. Gates open at 8am. $45 to race, $15 to watch. SGP will be up from Houston w/ Kyle's 11 sec. TTZ. Hopefully he can bring home a win for the Zs this time around. :) Alamo will be out there too, I'm not sure of the status of Steve Webb's Z... he's been swapping turbos out on it trying to find the perfect balance. I _think_ he said Jan's Z did 514rwhp w/o NOS. Don't quote me on that one. Although it's a totally built car. Also trying to coordinate a little activity between TTZD & the local Supra group for the weekend.

6-12-98 8:07pm:
Twinturbo.NET launched rather well... :) close to 10,000 visits by over 600 users logged in to have at it in the new forum! Thanks to everyone for making it go go go!!! Well, what will happen to TTZD now? Same ol' here. Got an oil change TECH page coming up & a more in depth look at boost jet installation/removal (yes, it does happen from time to time). We're trying to get the Dallas Z crowd and the Dallas Supra crowd together on the weekend of the NIRA drags at Ennis on June 28th. Also, the North Dallas Corvette Club is hosting a cruise in Plano on the 4th of July for those interested. I finally got to meet the newest member of TTZD the other night. Myke from Hawaii has now joined the ranks stateside for Z action (he says there's not too many Zs over there). His car got a little dinged on the trip over, but I think he'll survive. Very nice '93 Stage V. Need to get him on the dyno & see what Hawaiian speed shops can do! :) I spent some time today answering back e-mails since the tt.NET thing started going. Sorry for the delay.. if you haven't gotten a reply out of me, re-send the question, I missed it, sorry. :( Got my Stillen louvered panel in the other week... need to get it painted for summertime use. I managed to do a wheel swap w/ Jim who happens to have (had?) a set of the AVS wheels & tires. They are NICE! They look really good on DZIII. Jim was debating on whether it was the tires or his car that was pulling to one side. So, I volunteered my services. I'll get some pics up when I get the car clean (been rainy in Dallas this passed week). It is awesome... now I hate to think of spending that much money on a crazy set of wheels. Oh, well, it's a Z!!!! :)

6-3-98 9:30pm:
Here it is... what we've been working on for the last few weeks... sorry, it should have been up last Friday, but the new 9G drive I bought for it gave me some problems setting it up on the SGI server. :( Anyway... we're here & we're live now.. go, enjoy! I also apologize to the people that have sent me e-mail lately, just been busy with work & the new forum, I'll reply soon. :)

Page News:
Twinturbo.NET is now open for business!

5-28-98 7:15pm:
Hmmm... Dunno where to start. OK Courtesy Z Day page is up. Had a really good time & quite a few Zs turned out. Discussed the new forum with the people there... constantly surveying & questioning. Well, since the initial thoughts of the new forum, a lot has taken place. Our beta testers are loving the features we've put into it, I'm sure you will too. :) I wish it could go a little faster, but vacation supersedes most anything else for me right now (not saying the forum was stagnant, Greg really worked it over while I was gone) & there's only so much time to spend on the task. We are only days away from going 'live' with it now. Stay tuned!!!! ;)

Page News:
Still coding the new site, but stopped to put up the Courtesy Z Day page.

5-12-98 8:10pm:
Really weird times for the internet 90+ community. Everyone has bailed from tt.com, can't say I blame them. Place wasn't very homey & the new admin never added search or for sale or anything that people wanted. THEN came the banners for 'MUD' (packers). Whatever! We aren't interested in that on a CAR page, maybe banners for Alamo or SGP or Primespeed or Courtesy or Stillen or.... you get the point. Somebody we are REALLY interested in... <soapbox=OFF> OK, so what are we doing about it? TTZD is planning on hosting a new board very much like the original recipe forum. After all the boxes get checked off, we'll unveil our forum. Based on a T1 line in the middle of the country (we've already tested it on modems on both coasts, very fast load), we hope to avoid slow loads etc. Also have a host of new tweaks to make it better than the original forum (w/o going overboard). We've asked a lot of readers a lot of questions & gotten a lot of e-mail with a lot more suggestions & are applying the best of them to make the best forum possible. We've assembled a small pool of moderators to take care of the dirty work. We've even got a cool new DNS for it, just because one reader said he didn't want a Dallas slant on it... point taken! The new sight won't even say TTZD on it, but will have a very similar look and feel to make it a stand-alone addition to TTZD. We've even let a select couple of folks sneak preview what's running RIGHT NOW! So sit back, chew on those nails, hell, get out and drive that car for goodness sake & tough it out... TTZD will take care of your needs if all the pieces to the puzzle fall into place. Only a short time until everything is complete. Stay tuned.

Page News:
Busy coding the new forum (I wish it was as easy as .html!)... send suggestions/support to ttzd@dallas.net

5-4-98 8:20pm:
Sorry, NEWS is short, but I've decided to put a little more commentary on the actual EVENTS page than here... go check it out! Hard to believe it's already been a year since Dynopalooza & the start of TTZD... :) I think we've all learned a lot more about our Zs since then! Off to the next year!!!

Page News:
TTZD 1st Anniversary gathering at Lake Lewisville page is up!

5-1-98 7:00pm:
In all fairness to DavidH of twinturbo.com... I found this at the bottom of the listings over there:
Well as of midnight on 4-28, twinturbo.com should switch over to the new server. As you may have noticed, I was not able to transfer all the messages from the old forum over to the new forum page. They will however be available on a search page coming really soon. We are using new software for the forum and the old messages simply would not convert easily. The new forum allows you to set preferences at the bottom of the main page on how you would like your messages displayed. Another nice thing about the new forum is that it will allow you to specify the number of messages displayed, not simply a matter of when I get around to chopping the forum. I would like to thank the people of autoforums.com for hosting twinturbo.com. As the forum has grown over the last year, we have outgrown every server we have been on. The online Z community is alive and well! The new server should impress us all with its speed. Let's also send out a public Thank You to Blair for hosting the forum for the last 6 months or so. Don't worry, Blair and I will still be moderating and continuing to run the forum just as before.

If you have any comments, you are welcome to email me. I might not get around to responding to all the emails, but would love to hear from you.

Have Fun, as always
//David
I've gotten a couple extra editorials, but have decided not to 'air' them. I'd rather talk about... TTZD's first anniversary get together at Lake Lewisville (correction from the last update... Pier 121 instead of Pier 21... lazy fingers). Here's the plan... all Zs are welcome to come on out & enjoy the afternoon. Sunday morning we plan on gathering at the Fuller's Jewelry parking lot in front of Vista Ridge Mall on I-35 in Lewisville @ 10am. 10:15am, we depart for Lake Lewisville @ Pier 121. Here are directions courtesy of Mark C.
<snip>
Here are basic instructions to Pier 121 / East Hill Park.
I'm assuming most people will be coming up I-35.


1) Take I-35 to Hwy 121 in Lewisville.

2) Go East (right) on Hwy 121 for almost exactly 5.0 miles.

3) Turn north (left) on East Hill Park road. This road is
marked by a sign with an arrow saying "Pier 121" and also
by the fact it's right next to a railroad bridge that goes
over Hwy 121.

4) Go on this small road for about 2 miles. Keep going straight
until you come to a park-ranger booth. Pay the fee ($2 per
car and $2 per person). The picnic area(s) and boat ramp
will be towards the left.

For people who are coming from the Plano area, it would be
easier to take the Tollway or Legacy to Hwy 121 then come
south. The turnoff onto East Hill Park Road would be about
2 miles south of the Colony (they should also look for the
Pier 121 sign and railroad bridge).

Hwy 121 goes east/west in Lewisville,
but it's considered a north/south road. So, when you exit off
I-35 and go right, you'll be going east (like my directions say),
but the road signs will probably say Hwy 121 North.

Just a minor note, I didn't want anyone to get confused.
<snip>
Hope to see you there! Don't forget to send your e-mail to Steve Richardson about Z day at Courtesy on May 16th!

Page News:
Same ol' same ol' :)

4-29-98 9:00pm:
Wow! WTF happened to twinturbo.com? Yech! here's my editorial on it:

Rather disappointed DavidH 'Pulled the Rug' out from underneath forum users. Sending it to AutoForums.com (home of the F-body & other forums) was rather shocking. I still haven't seen his explanation for it. I think if asked to, the forum members would have taken care of it for DavidH, instead of shipping it off to some orphan forum foster care program. I have to admit, the F-body forum has one feature that I like (not sure if it's even utilized for us), which is the ability to see the entire thread tree while following it down. But, that's not a biggie, what is is the loss of the DNS twinturbo.com. Now we're just lumped in with the rest. Sorry, just kinda sucks that we had THE BEST AUTO FORUM out there thanks to David's programming skill & now he parks it with the rest of the cookie cutters out there. <SIGH>

DamonZ

OK, now for a guest speaker:
Well, I'm sure you've already seen the new TwinTurbo.com forum. What gives? Why was this forum suddenly changed without notice or even a thought about what the users wanted? I could understand if the old board was full of complaints about how slow it was, or how many times it crashed, as it stands though, there were no problems with the old board. I do have to admit, the new board isn't half bad though. At least there's finally a picture of a twinturbo Z on top of the page unlike the old board. As long as they fix the problems of the new one and get it to load quicker, it might just be better than the old forum. I guess in the end, all I can say is let's give it some time to see if it is indeed better. Perhaps if we give it a few days, we'll all start getting used to it again. If not, I'm sure we have all the knowledge and resources to start a new TwinTurbo.com that we will find acceptable. Hey, how about NAZ.com instead?

Alex Lee
Thanks Alex... on to other things.... TTZD 1st Anniversary gathering will be At Pier 21 on Lake Lewisville May 3rd starting at 10am & lasting through the afternoon, all Zers are welcome to come out & show their rides off, also we'll have some skiing going on & some BBQ action of some sort as well... : ) Next up is the Courtesy Nissan Z Day for 90+s... May 16th starting at 7am. Straight from the horse's mouth, Steve Richardson, Parts Manager, Courtesy Nissan:

Hello Damon,

Here are some details of the Saturday May 16 event at Courtesy.

The Service Department at Courtesy Nissan in Richardson (Dallas), Texas, invites owners of 1990-1996 300ZX's to our dealership Saturday May 16th, 1998 for some freebies. The first fifty owners that RSVP by email will receive a free breakfast buffet at the Holiday Inn Select, and a 27 point inspection. The first thirty to respond will have their car on the Nissan "Consult". The Holiday Inn Select is taking reservations for out-of -towners at a special rate of $65.00/night. Their phone number is (972)238.1900. Please mention the special rate for Courtesy Nissan.

We ask that those responding by email include their name, address, day telephone, VIN, and any modifications (performance related) to their vehicle. The only reason we need the mods listed is so we can better understand the "Consult" readings.

The Holiday Inn has agreed to allow attendees to "meet" in the back parking lot to swap parts, show cars, etc. They ask that no one leave any black marks on their freshly laid brick lot.

So far we have ten people signed-up. If you know anybody interested, please have them email.

Steve
Courtesy Nissan
1777 N. Central Expwy
Richardson TX 75080
1-800-527-1909 or 972.644.3942
(fax) 972-234-4924
courtesy@airmail.net www.courtesy-nissan.com
OK, that does it for tonight... rebuttals anyone? Oh, forgot, that new custom JWT chip rocks!!! :) Thanks Clark!!!

4-22-98 8:52pm:
Before someone starts in... I'll update tomorrow. j/k Got the chip from Clark today... lots of code letters & stuff on the sticker... Custom! I'll get the details on the Courtesy get together once I have them. Steve didn't get to even look up from his desk today. :( I'm in the same boat... gotta get home now to install my beloved JWT chip!!!! LOL

Page News:
So AlexLee of TT.com fame (he needs to start NA.com, oh crap, already taken) can measure his negative boost... a boost gauge installation page! : )

4-21-98 9:36pm:
Due to popular demand in TT.com chat... a real time update!! :) Courtesy Nissan is going to have a 'TT Day' (not excluding NAs, just separates the '90+ from the 'seasoned' Zs) on May 16th. I'll have full details tomorrow hopefully. Steve Richardson says the first 30 RSVP will get breakfast from the Holiday Inn next door to Courtesy & a free 27 point inspection including a CONSULT test! did I say FREE?? very cool!! They are hoping for 50 Z32s to show. We might make it! ;) Probably going to go to Malibu SpeedZone afterwards for some 'high' speed crash & bash. Also TTZD's 1st anniversary is approaching on May 3rd. We're going to go to Lake Lewisville for some sun & fun. Oh, adult beverages & ski boats too... I WON'T forget the sunscreen this time. Sunburn made my business trip to Vegas unpleasureable (well, as unpleasurable as a trip to Vegas might be if sunburned :) Now, about the situation with DZIII... uh, damn thing has an early '90 JWT ECU in it! I've been driving it the whole time with it... seems to run OK, but Clark @ JWT says he can make a chip that will offer the same performance as a real 16 bit '95 ECU. Oh, yeah, found out that '95+ is when the ECU went to 16 bit, I had thought it started in '94. Guess not. Clark's going to do a few tweaks as well. Heh! All I can say is, it's another reason why I bought JWT over Dinan... customer support <period> Nice to call with a dumb situation like that & them say 'no problem, we can fix it.' Speaking of... had a religious experience yesterday. Went to Discount Tire to get new rears (imagine that) SP-8000s this time. Much nicer than the factory GY things... they SUCK! Anyway, the guys at this new store, 3rd one in this part of town, are all 2+ year veterans. I'm convinced the guy mounting the new tires would shed his own blood to keep from scratching my wheels. Damn impressive! The guy that did the balance does a lot of race car stuff. Turns out they know Mike P. by name he's in there so often now for his Z32 & ITS car. LOL. Homer & Ron @ Discount Tire on Spring Creek & Central... If you don't believe me, go check for yourself. I don't think I'll ever go anywhere else (unless they leave & I know where that go!). David S, was that good enough? j/k...

4-16-98 11:30pm:
Looks like the car show/gathering for the 1st year anniversary of TTZD will take place at Lake Lewisville on the north side of the Dallas area, haven't decided which day... May 2nd or 3rd yet. Couple of the guyZ have boats, so it should prove to be a lot of fun. I just don't have time to put together a 'real' event right now. Chained to the desk at work. Heh, not all bad, I do have a T1 @ the office now to read the forum quicker. : ) Spring fever is hitting pretty hard in Dallas now... nice 70 degree days with clear skies... perfect for pulling off the t-tops (& cleaning in the grooves underneath) and spending some quality time behind the wheel. I hope you are able to enjoy your Z wherever you might be! My new Clutchmasters Cyclone segmented kevlar clutch is awesome! I've got enough miles on it now to flog it a little... just like stock with MORE holding power. Bought a 100,000 mile warranty for the Green Queen DZIII Monday... there's a long story coming out of that, I'll share it once the situation gets resolved... just when I thought everything was going perfect. BLAMO! strange complications.... Looking like an afternoon of pulley & brake line install this weekend with Rich & Michael, time is tight, but we'll see how I feel about it once I get there. Also have to change the oil on the Z (Hey, Kyle, I gotta remove the engine for that right?) & clean out the K&N filter. Expect TECH pages on these things in an effort to cover simple maintenance stuff to save easy money. $$$

Page News:
After reader e-mail sparked up some questions on Samuel's car, I finally got everything I needed to put together his RIDES page. Check it out! Also added some stuff to the NA Header Install page.

4-6-98 8:20pm:
Real Quick one... DRAG WARS! LOTS of pics!

Page News:
See above...

4-2-98 6:04pm:
ID Dragwars are this Sunday SUNDAY SUNDAY! Dunno who's going to be there, but a lot of people are talking! I still don't know if I'll make it or not, but a good size chunk of TTZD should be there. Advance tickets are $12 for spectators and $40 for racers. It's $20 for spectators and $47 for racers at the gate. Advance tickets can be purchased @ Alamo Autosports (817)-860-4300 ...Gates open at 8:00 for racers, don't know about spectators. Dragging all day long!! Head to head amoungst your own kind & grudge matches where you can pick who you want to race against... Ought to be interesting. Just wanted to give the scoop on the meet because I really han't given out any info here (my bad). No boosting with the new clutch is probably going to drive me insane shortly... I've already managed 250 miles since Monday morning. Hopefully after this weekend's outings I'll be clear for high boost! ;)

3-31-98 8:30pm:
In the spirit of the Oscars... First off, I'd like to thank Jim(Dallas) for spending more than his share of time helping with the clutch this weekend. The machineshop decided the flywheel should be a single step (flat) when in fact, it's a two step (.008" difference). Jim toted me & the flywheel back & forth twice to get the thing corrected, a 1 hour round trip each time... not to mention helping wrestle the tranny back in place after doing the clutch. Thanks Jim! I'd also like to thank Jeff Burton, who came out Sunday & helped re-assemble the leftovers from Saturday... & last but not least, Steve Webb at Alamo Autosports who could tell me the machining dimentions seemingly without looking when my $90 service manual couldn't. <sniff> :) Thank you! OK, clutch is in and everything works good. I hate driving like an old lady waiting for the thing to break in. No boost for DZIII now. :( Trying to work up a Z/Supra gathering at Malibu Speedzone (high speed go-cart track w/ rails that go 0-70 in 3 sec.) for a large cc import rocket get-together. ; ) I thought I had been on TT.com for a long time... over a year now, my first post was 3-28-97 that I could find in Search. TTZD one year anniversary isn't too far off!!!

Page News:
I'm thinking of covering a lot of the simple DIY procedures... changing oil, etc. Clutches might be a little advanced for the average person, but changing your own oil can save beaucoup dinero over time. Updated the LINKS & FOR SALE pages with a couple new items... Oh, yeah, these Brake pages are nice too...

3-23-98 8:00pm:
Finally got the B&B installed Friday. Very nice work by Steve Webb @ Alamo, what a pain it is to install for a simple exhaust swap! The 3" pipe causes a LOT of interference when trying to work with the nuts & bolts. Sounds much tougher than the Flowmasters on DZII though. Had a side by side comparison on Saturday, as DamonH dropped by to do title work on DZII. The B&B resonates pretty bad @ 2200 RPM under load, which is close to 60 mph in 5th. Yech! I'm seeing what my options are to dampen this with out going to the 'Quiet Option' from B&B, which entails welding restrictors in the mufflers. Otherwise I love it!!! Nice weekend to work on the Green Queen DZIII. Was planning on doing the clutch install & gutting the pre-cats, but the machine shop that does flywheel resurfacing closes early on Saturday, so I opted to just install my brake lines. Apparently no one knows how to bleed the ABS actuator on '94+. It has no bleed nipples on it like '90-'93. The service manual hasn't changed at all in this department that I've seen from '90-'95, the instructions remain the same, but the depictions of the equipment involved changed?!? Go figure! What does this mean? Well, Jim came out & helped bleed the brakes for hours & still were left with a slightly mushy pedal, although the braking improvement over stock is outstanding, I know it can still be better. While I was installing the brake lines, Jim replaced his vandalized mirror & rear windshield wiper. Thanks for your help Jim!

Page News:
OK, OK, so I'm too ambitious in mentioning the Safety Boost Tweak page last update. Thought I could squeeze it in, but my schedule has been turned upside-down because of work. I have everything for a Brake install page now, so that will be coming out soon too. Sorry for the delay.

3-13-98 8:25pm:
Another quick one... little upset last night on the way home from work... finally found a playful C5 on the road, wouldn't you know it, SAFETY BOOST! Never had it before. So the SB Tweak page will be out VERY shortly, gotta get this fixed. Rich has been suffering from it for months now & finally got relief from it by a simple procedure. Probably a good thing for DZIII right now, the stock clutch can't hold what I've got right now anyway. Get to sign off the title for DZII next week, finally came in after 3.5 months. Financing company was confused over Damon & Damon. Imagine that! Rich made one of our favorite delicacies, 'Smoked Cobra' the other day...Yummy! Discussing a possible Dallas Supra/Z gathering in the near future, that could be VERY fun! :)

Page News:
Underdrive Pulley Install page is up. Expect the SB Tweak page in a few days... just because I'm not the only chronic sufferer out there!

3-12-98 9:20pm:
Quick one tonight... wanted to get this TECH page out, Pulley Install page is next, just have to scan pics this weekend of it & Alamo Dyno Day III, then post 'em!

Page News:
Autocross Suspension Tweak page is up! Just in time for the new season!! :)

3-7-98 11:30am:
More stuff from Alamo Dyno Day III... couple new dyno charts for perusal! Still have to get some old fashioned film developed for some more pics & to finish the U-R Pulley Install page. Not much happening around here now, waiting for the Import/Domestic Shootout April 5th. I need to install my new clutch & gut those pre-cats. My new exhaust still isn't in after B&B shipped the wrong one to Alamo. :( One of these days... Hopefully I can do my brake package today/tomorrow... SS lines, Metal Matrix pads, Motoul fluid, paint the calipers to go with the newly installed Powerslot rotors. Karl got the same package installed & loves it. Jeff B. did too, says he loves it as well! Gained a few new members at ADDIII too... we're up to 22 local & 6 visiting!

Page News:
New dyno charts! #32-40, still have a few more to get from Alamo (spent a couple hours just printing them out Monday). A couple pulley charts, mine only has a 3 week gap & atmoshperic conditions are VERY similar this time.

3-2-98 11:15pm:
Well, here it is! Alamo Dyno Day III pics! I bought a digital camera just to be able to get quick turn around & for good reason!!! We had a turnout of 33 Z32s for the activity!!!!! Outstanding! : ) High HP honors go to... drum roll please... Kyle @ 405hp!!!! I'm guessing Edward made it back to Houston, he didn't have the greatest day.... got a speeding ticket on the way up & his alternator died on the way back. :( Hope everything came out all right. Finally got to meet Blair & Mark(SGP), 'Boosted' for the chat inclined. Very nice to have them up with Kyle & Edward this time around... Mike B. also made the trip, somehow I never got to shake his hand, sorry Mike, next time for sure! Also Herb came down from OK. & had his boost problem fixed by Kyle for adult beverages. :) Lots of people everywhere, kinda shocking to the non-90+Z driver to pull into the lot & see a whole lot full of Zs there... The U-R pulley gained 11 hp for MAX Power & about 19hp for MAX Gain... torque was even better on my Stage II. Thanks to Steve Webb & Brad at Alamo for keeping the dyno cranking ALL day long (I think 21 cars went across the rollers)!! I'll post more details about the runs when I post the charts later (hopefully) this week...

Page News:
Alamo Dyno Day III, still a few more pics to come, but it's fairly comprehensive look for now.

2-26-98 7:15pm:
Gotten a lot of mail concerning Alamo Autosports Dyno Day III & what it is & what we do? OK, Alamo is the speed shop that we're prone to congregate at on any given Saturday to buy stuff, dyno & generally bother Steve Webb, Z specialist. What we've done twice now is get the club together & others to dyno our cars for $35, 1/2 price. This one will be bigger than the others with Kyle, Blair, Mark, Edward & Mike B. coming up from Houston, maybe some of the Austin crew, CatDaddy said he might venture down from OKC if the weather is nice, maybe a couple from Arkansas, & numerous 'new' locals. Mostly depends on the weather, who wants to drive in the rain? The whole idea is to come out & meet others with a common passion, check out other Zs & discuss mods & the like... all centered around dyno testing. What is dyno testing? It's simply strapping the car on top of a machine that measures hp/torque at the ground, where it matters most. The dyno is an invaluable diagnostic/tuning tool, giving real numbers to 'seat of the pants' subjectiveness of new mods & helping cure problems by showing dips & whatnot in the curve too. 'Am I really putting out 400hp?', now you'll know! I've learned a lot about my '90 from dyno testing & am learning about my '95 now with dyno runs in-between each upgrade. With that out of the way... 'I want to dyno!' So come on out this Saturday the 28th around noon to Alamo Autosports ready to dyno & meet some of the people you've discussed with/helped out/cussed at on the internet! Reminds me of the first time TTZD got together last May... nice to put faces with the names... :) Weather.com is calling for mostly cloudy & 49 degrees at 6:17 central. Hope it turns out like today! Beautiful clear skies & 64 degrees... either way, it's not raining!

2-23-98 7:05pm:
Well, this sucks, Weather.com is calling for rain on Sat. Of course this is Texas & weather prediction can be a gamble until it happens... Ever hear of the double barrel shotgun leaning against the fence? In Texas, it can rain down one barrel & leave the other one dry... : ) We're remaining optimistic... Directions: Easiest is this map, otherwise... I-45 from Houston, go west on I-20, then look for the Cooper Street exit, go north 2 1/2 miles on Cooper to Colorado (next left after Pep Boys). I-35 from Oklahoma/Austin, go west on I-20, then follow rest of directions like Houston... I-30 from Arkansas, go all the way to 360 in Arlington, head South to Pioneer Parkway, go west to Cooper, then south to Colorado on the right... Locals can head towards Six Flags in Arlington & then go south on 360 to Pioneer Parkway & follow Arkansas's directions... Alamo's on the end of a strip center on the left, little hard to find, but look for Z cars & head toward them! Their address & phone is 1218 Colorado Ln C-3 in Arlington, TX. 817-860-4300... Any Qs, call them, or mail me... There are also some new hotels on the corner of I-20 & Cooper to house the long distance travelers. : )

Page News:
My scanner is temporarily out of order... Can't scan in pics I have... :( one of these days I'll buy a digital camera (probably tonight on the way home...)

2-22-98 10:43pm:
OK, Alamo Dyno Day III is next weekend, Saturday the 28th. Turnout looks like 20+ Z32s... FUN! I'll post directions tomorrow when I'm sure I know what the hell I'm talking about... last time I gave directions to Alamo, it was a mess... sorry Samuel & Marco... : ) Trying to get a Viper GTS to come play too. Already have a Porsche 924S turbo & a 911Turbo on the way, maybe Edward in a modded Integra & a Mercedes of some sort. Fun for the whole family! I had hoped to dyno a stock '95TT & then add the pulley & dyno again, but the owner is a little reluctant to do that now. Maybe later, so probably the best pulley comparison we can do right now is on my car... a Stage II that I dynoed 3 weeks ago, unless someone else steps forward with a stocker to mod. At least I'll try to get the air temps a little closer than the previous comparison to rule that out. My B&B should be in Saturday, so I'll install it at Alamo & re-dyno same day for that. More details tomorrow...

2-9-98 7:54pm:
Spent Saturday at Alamo. Rich got his 30k maintenance there & some of the rest of us showed up for moral support. While Steve & Brice were under the hood, Rich decided to get the pulley installed too. Really simple to do! Just curious what the real HP value is. We'll find out soon enough, as I bought one for mine as well... Got to meet Jeff B (HeffaZ) finally, after months of ICQBS. :) Took a ride in Mike P's Z (again), really had no reference to the hp gain, but his brakes are awesome. He has the Skyline kit & the thing feels like it will stand up on the fronts under heavy braking. WOW, can't wait to get my minor brake kit installed! Alamo is gearing up for Dyno Day... looks like it's going to be a blast! The car show is starting to take on life too. Be nice to get the Texas Zs together (& surrounding states) in one place... this includes you Arkansas guys. :)

Page News:
Put up an ECU Diagnostics page for those of you wondering what to do to your Z when it misbehaves.

2-4-98 7:32pm:
Lots of talk about the Unorthodox Racing pulley lately... I got a fax of Mike P's chart with & with out the pulley, I am impressed, but still am not certain that it lives up to the numbers people are talking about. The chart has a marker on it supposedly showing the max. difference in HP happening at around 3500 RPM. You do the math. I'm also wondering about how much the atmospheric conditions play into it. There is a 29.9 degree difference in air temp too between charts compared here, I'm not totally convinced Dynojet correction factor (CF=?.??) works as well on TTs as NAs. OK, OK, enough with the skepticism... Everyone that I've talked to that's running it says it kicks ass, no matter what the real numbers are! I'm buying one just on that recommendation. I'll try to get a before & after with similar conditions in a short span of time (week or two) on my Z. Hopefully, our stock '95 that runs at Alamo Dyno Day III can be persuaded to do the pulley first to see what the difference is. Mike's car is a tweaked Stage V, so the results are going to be more dramatic for him... More jury time. (Do you feel like O.J.?) Jim(Dallas) is close to driving his Z. I had forgot how much extra shtuff was needed for AIVs, we couldn't use my car as a model this weekend to get it back together. :(

Page News:
First off, TTZD webspace has had 10000+ Z freaks visit it! We'd just like to simply say 'Thank You!'. Next, the Pulley Dyno chart (it's a fax, so it will be replaced by a nice color version after this weekend). Sam sent me a copy of the Ennis Motorplex calendar of events. Finally, a nice picture of Blair's cat, Boost. Boost scared the crap out of us when he walked across Blair's keyboard the other night in TT.com chat leaving a message resembling 899999999999991111111111. I thought Blair was passed out face down on the keyboard. :O I've alleged that's the reason TT.com goes down every now & again... Blair's nose is mashed on the 'L' key locking up the server.... Just kidding Blair! : )

1-30-98 7:56pm:
Dynoed at Alamo this morning. DZIII performed very well & very consistently! : ) Now I'm wondering about the whole #5 vs. #6. plug deal, I've got #6s in there. Bought Powerslot rotors & Metal Matrix brake pads from them too. Waiting for brake lines & then I'll get Motoul 600 fluid for it, that should take care of the brake department for a bit. Met one of the TT.com frequent posters... NVMYZTT. Pretty impressed with the wheel polishing thing he's got going on, looked much better than I had imagined. Going to trade out rotors tomorrow & bed them with some left-over front stock pads, then pull the wheels off again to put the MMs in there... better safe than sorry. The Powerslots are only 1 lb. heavier than the Powerstops & will probably endure hard driving a lot better (no radial cracking). Also going to repaint the boost gauge mount for the 3rd time, this paint match is far superior to the others... hopefully it will look right. Yes, I am that picky. : ) Look for TECH pages on brake pad replacement to compliment rotor swapping & eventually a page on installing brake lines & bleeding brakes. Sounds like a whole sub-category of stuff!

Page News:
Now have 30 dyno charts posted for your perusal! DZIII gets some dyno action!! ; )

1-23-98 5:35pm:
All right... Alamo Dyno Day III is shaping up nicely! Kyle, Blair, Mark & Fred are planning on making an appearance from Houston, William might come up from Austin, & I think I remember Catdaddy saying he would come down from OKC. Hopefully more out-of-towners will too. Also have plenty of in-towners that I haven't even met yet, but have e-mailed, ICQed or chatted with on TT.com. Going to have a good crowd of Zs there. Getting Kyle on the dyno will be wild! Hope I can get all of my mods squared away by then. Mostly worried about having the clutch fully broken in for high pressure dyno runs. Everything else is a bolt in, should be able to finish in a day, just hunting for the best deal on perf. parts. I think I found it! : )

Page News:
Damon H's RIDES page is up. He is the proud new owner of DZII (still holds true for him, his previous was an '85 ZXT). A flaw was pointed out in the news page... Andy D. found that the TTZD mailing address at the bottom was incorrectly linked. Sorry about that. : (

1-21-98 5:15pm:
Heh, fulfilled one of my TTZD New Year's resolutions... Getting Steve Simmons' RIDES page up. That's one down (I feel better already!). Samuel & I went to help Jim(Dallas) with his Z. It's been his project since last July, I found out why. Very ambitious, he's changing his turbos himself... big deal right? He did it without pulling the engine... in his apartment complex parking lot!!! Not even a shade tree! Anyway, he broke his hand & hasn't been able to do much in the past few weeks. So, we came to help put it back together. Gonna take a few more weeks to get there. It'll happen soon enough. : ) I'm adding the Unorthodox Racing pulley to my shopping list for the Z, rather inexpensive mod for what it promises, also ensures a TECH page. Waiting to hear from Mike P. about how his dyno testing went with it. Sam tells me there will be a second Import/Domestic Shoot-out @ Ennis this summer, sometime in August. I thought it & the one April 5th were part of DragWars, but they don't list it. They do list something in Feb. for Texas, but I'm not sure about it. My boost gauge is in, but it's not right yet. Have to re-match the color again & find some way to get regular white light out of the SPI gauge. They offer green & orange illumination, not white. I can't figure how to take it apart to remove the color boot from the bulb without destroying the gauge... shucks. : (

Page News:
Steve's RIDES page is up! Added links above for .AVIs & Mr. K. pages, I finally realized it was hard to find them otherwise. Sorry about that.

1-16-98 9:06pm:
Some upcoming events on the TTZD calendar:

1. Alamo Dyno Day III Alamo Autosports Feb. 28th. Got a stock '95 TT to run on the dyno, so we can finally have a baseline to compare with. I'll probably have some mods completed by then to dyno with too. All year Zs are invited to come out & play with TTZD!

2. Import/Domestic Shoot-out @ Ennis April 5th. This is going to be HUGE! Lots of magazine coverage, expecting a turnout of 5,000 spectators. All STREET cars, no trailers... Alamo is a sponsor, classes for all cars, Z against Z, grudge matches etc.. The whole shooting match!

3. TTZD Founder's Day car show May 2nd. Working out details on this now, if you're interested in showing or just coming out, let us know! I already have interest from other cities! :) William are you out there????

More details on this as they come down the pipe...

OK, other stuff... Jeff B. is the newest member of TTZD, after purchase of Brent's Stage III TT, that's two Zs that have been sold by club members, but stay in the club! Samuel is enjoying the benefits of having full boost (his hp was a little low). He discovered some under hood problems (dunno how it happened) while wrenching on it... big grin there. Hmmm... I'll finish my SPI boost gauge installed this weekend, I put it in last weekend, but couldn't get the vinyl dye to match close enough... a few trips back to get the 'computer matched' paint correct should solve this... yes, damnit, I am that picky. :) I'll find out tomorrow. Kyle's threatening to do a NOS installation page... I'm trying to convince him it's better to demonstrate on my Z! :) Chat is a big deal on TT.com, been spending too much time in there... What else??? Steve Webb of Alamo Autosports bought two items for us to look at at the ZCOT meeting last night... First, an Unorthodox Racing underdrive pulley. Very, uh, SMALL! I can see why it makes a difference. They installed the first one on Mike P's car, due to his thorough dyno history there. We'll have results after this weekend. Steve says Mike loves it! Second, this item blew us away! A fully polished (yeah, big deal), extrude honed (OK, that's better), larger throttle bodied (makes sense), ceramic coated (what?) upper intake plenum. Yep, ceramic coated for thermal protection. :) Performance Coatings did it for them, very nice work! They are giving it as a present to Jan when they finish his 700 hp TT sometime this spring ?!? Steve Simmons & I are already discussing the possibilities here. Poor Steve W. had to go back to Alamo & polish the drool off of it. *bFg*

Page News:
Three new RIDES pages to check out... well two new & one recycled to match the new owner... Jeff B's, Mike T's & Sam's are all up now...

1-8-98 8:15pm:
Well, '97 is behind us like so many other sports cars. : ) It was a pretty good year for me & my Z(s). Learned a boatload from TwinTurbo.com. & TTZD was started last May. I also finally started attending ZCOT meetings. Member for close to a decade now & never went... Missed out on a lot of Z stuff there. : ( It's nice to have other Z owners around who not only have the answers to questions, but are willing to get their hands dirty to prove it. : ) Speaking of, tried another pre-cat gutting session, only to be foiled by an O2 sensor unwilling to come off. Between that & some mocked-up pics of my Z under the 'knife', I've finally got the pre-cat gutting page put together. The photos are temporary & a few key ones are missing for now. I'll get another shot at it shortly to get all the pics required for your viewing/wrenching pleasure. Plenty of other TECH stuff in the pipe, just have to get time & pics for all the stuff I've written.

Page News:
Let's start off '98 with a bang (of a crowbar hitting a catalytic brick)! The long awaited Pre-Cat Gutting page is here!!! It's make-shift, but I wanted to get it out there anyway. I'll come back & make changes as necessary. Steve Simmons granted snarking rights to the serial number tables from his personal page. I formatted them along with some color code charts into the Color Combinations & Serial Numbers page to clear up some 'what year?' questions.

12-19-97 3:15pm:
Ho! Ho! Ho! Not much going on around here. Cold wet weather stinks, I haven't been driving DZIII in an effort to keep her clean & keep those miles off. Sorry if I haven't responded to e-mails sent to me or ttzd@dallas.net, Business has been crazy for me & with the Holidays upon us... Looks like some interesting TECH pages on the horizon. Once Russell gets some free time ; ) I'll try & get the 60k maintenance write-up finished... LOTS of pictures... I shot at least 6M of .jpgs during the timing belt part! I've got some small ones on the burner too.

Anyway... Have a Merry Christmas & a Happy New Year! May Santa bring you all the high performance goodies you've wished for (or you have to wait for the Uncle Sam refund!)... : )

12-9-97 9:05pm:
OK, gutting session went well... no pics, want to perfect the method. I can probably cut it down to 2-3 hours (& do it properly, but w/o dropping the tranny). Russell got turbo rear wheels for the front to quell the understeer, so we did a little pitcrew action & rotated/swapped wheels. Starting to work on mods for DZ III... It already has JWT ECU & POP intake. I'm adding a Valentine 1 (most important speed/money saving mod), B&B 3" single tip exhaust, Cyclone carbon/ceramic clutch, Powerslot front rotors, SMC stainless steel brakelines, Motoul 600 brake/clutch fluid, but I haven't decided on brake pads yet. I figure that'll get me started on the road to catching Mike P! Also, I can loose that mushy brake pedal.

Page News:
TTZD now has it's own mail address for general questions & comments: ttzd@dallas.net. I'll generally forward these mailings to all members. I've made 3 New AVIs for your viewing pleasure... Once again, thanks to Blair @ Twinturbo.com for providing a place to keep these things... Also, RichZ @ The 300ZX Clubhouse turned the Superbowl .AVI into a screen saver, along with the G I Joe/Barbie spot.

12-5-97 6:07pm:
DZ II is gone, but not too far... Russell & I spent some time last weekend bleeding brakes on our Zs... His was textbook, mine, well, it doesn't have air bleeding nipples on the ABS actuator, so I still have mushy pedal. :( Russell's writing a TECH page for the procedure. Going to gut Karl's precats tomorrow, kind of a birthday present... :) Got some new things coming at the beginning of the new year. I'm putting together a video for ZCOT of the Z Heritage Parade in the next few weeks also need to get those last few .AVIs done too.

Page News:
Finally got Mike P's RIDES page up. Nice Stage V w/ plenty of goodies! This is the car that made me want more speed... Thanks a lot Mike! My wallet will never be the same. :)

11-26-97 6:30pm:
Going to wave good-bye to Damon Z II tonight. Managed to recruit a new member by selling a Z to him. Oddly enough, his name is Damon too! Sorry, I'm keeping the plates! :) Anyhow, I'm going to try to spend part of Thanksgiving vacation working on the new Z. The wash, wax & detail routine. Have a happy Thanksgiving everyone!!!

Page News:
Alamo Dyno Day II page is up.

11-25-97 11:05pm:
Alamo Dyno Day II is past. Had 7 TTs, 1 NA & that NA show for a beautiful Saturday afternoon. 66 degrees & sunny. Good for those dense air dyno runs. Just about everyone rode the dyno. Mixed results, but mostly improvements where expected. I had a digital camera, but I keep forgetting to bring the disks to work for Photoshopping. So much for speed & efficiency. Alamo now offers 110 octane unleaded w/o metals Phillips 66 racing gas. Steve Simmons bought a few gallons to dyno with. He's also added a 2POP setup to his Z. It definitely wins the award for most air to the intercoolers at speed. No front bumper cover right now! He's still recovering from the joyride of awhile back. Michael's NA didn't give results as desired, but we never had a baseline on his '96, which we are sure is lower than a stock '95 is. Until we can get a stock '96 strapped down on the dyno, no verdict on the performance improvement Stillen headers offer. Alamo installed a set on an automatic NA. Steve says you have to unbolt the engine mounts & hoist the engine to get enough clearance around the larger auto's bell housing. Sounds like a royal pain to me! What else... Met a new guy named Chris, Stage III with lots of cool options: Stillen's new front end, side marker lamps, a super stealth trailer hitch receiver & some pretty serious mobile audio! Sam came up from Baylor University for a return visit to Alamo. His Stage V was the high hp winner! Special thanks to Steve & Bryce Of Alamo Autosports for putting up with us again. :)

Page News:
6 new dyno charts in the TECH section from Alamo Dyno Day II. I finally posted the ECU page under TECH as well.

11-21-97 7:55pm:
Well, the whole Ennis thing turned to crap! The promoters had over 200 tech cars turned in... No room for us Z guys at a mustang/camaro meet. Had folks coming in from other cities too. Kyle was going to come up to try & break into the 11s. Waiting to see if he'll come up to dyno with us at Alamo tomorrow. Should have a good turn-out for Alamo Dyno Day II. A lot of Zers were planning on skipping the drags and meeting up at Alamo afterwards anyway. Oh, well, there's always next season...

Page News:
Damon Z III page is up, finally! Also, Tim Hydelaar added a hp/tq/0-60 chart in his NA FAQ based on Michael's 95's dynocharts. Check out the 0-60 for a Stage III w/ headers & pulley!

11-14-97 7:04pm:
Cold, wet weather sucks... I drove my Z for the first time since I brought her home today. It's filthy. : ( Got some folks coming to look at DZ II this weekend. Need to get her moved out... I'm scared of a double car payment month. : |

Page News:
After some discussion about what TTZD really is, we came up with a rather simple answer... Click the logo up top for it. Got some more TECH stuff on the burner as usual. Working on a pre-cat gutting procedure. Got many compliments on the NA Header page. Most notable from the VP of Windy City Z Club who decided against renting a lift in a shop to take the DIY approach. : ) That's what this page is about, helping folks see how 'do-able' some of these procedures are. If anyone has suggestions for new TECH pages, send them to me...

11-10-97 8:02pm:
A few things happening around here, most notable for me is my NEW Z! Damon Z III. Finally found the right one. '95 Cobalt Green/ tan leather TT. Stage II (chip & intake) with chrome wheels. It's got 11k miles on it & still smells new. Thanks Ken! Flew up to Memphis to buy it, drove it back Saturday & Sunday. Won't get to drive it again until Thursday probably, gotta get registration & state inspection done first. : ( So, once again (well, it's been this way for a bit, but I haven't been too public) Damon Z II is for sale! Currently 79K miles & I'm asking $15.5k US for her. Little above market, but this car is too clean & has plenty of new parts including the two most important to any TT (Red Devil's OEMs). : )

Page News:
Andy Woo of IZCC & TTZD have agreed on a link exchange for TECH pages. IZCC technical library can now be accessed from TTZD's Tech page & vice-versa.

11-4-97 8:25pm:
Long Z week. Had a TTZD meeting on Tuesday @ the new Humperdinks. Discussed Z stuff & ate good food. Helped Russell with his 60k maintenance on Saturday, well, I mostly stood around & took pics (Thanks to Stan Simmons for use of his cool Sony camera!) About 5M worth. Hopefully Russell can find something he likes in there. : ) Jim & Russell were guinea pigging each other. Jim is most of the way through his & Russell helped him to learn how to do it on his car. They ran out of time & ended up using Russell's to go before Jim's. Well, with his new found knowledge of timing belts, etc., Jim will get his up & running after working on it slowly for awhile. The token NA was there in pre-op fashion, waiting for headers to be installed on Sunday. That took most of the day. Michael seems pleased with the performance difference, but I still need to get him on a dyno to see if Stillen's numbers are true.

Page News:
Through the miracle of digital camera technology, the NA header page is up! No waiting around. : )

10-27-97 7:15pm:
Put up some pics of my Texas Tour. I had more pics, but the developers ruined them... I really need to get a digital camera to eliminate that possibility & get my page turn-around quicker. Somethimes this is like a monthly magazine. I know it's not a real-time forum, but It'd be nice to always have pics to go with the stories. : ) OK, who has recommendations on a camera model for me?

Page News:
Texas Tour pics & well, the .AVIs from yesterday should fall under this heading as well.

10-26-97 1:00pm:
.AVIs anyone?

10-24-97 7:20pm:
Well, TGIF! Russell is going to change his timing belt next weekend. Expect another TECH page out of this. The Fastest Z in Texas page is incomplete, a few more times to get, but I wanted to go ahead & publish. I'll make the additions as I get them. Lots of other stuff on the burner, stay tuned!

Page News:
Fastest Z in Texas page is up.

10-13-97 6:00pm:
Found a couple more locals with ICQ program. Paul Tague is making a return visit to Alamo sometime this week to get some dynotuning in. Added his Z to the Visitor's Rides pages for his first trip in on Alamo's Dyno Day. On TT.com there seems to be a lot of discussion on ECU pricing. Seems my used one is over-priced for the market. I'm working on plans for an auction, I've gotten several requests on it, now I know why no one wants to buy. Doh! So... If anyone has any suggestions (or bids for that matter!), I'm open...

Page News:
Added Paul Tague's Z to the Visitor's Rides page in the RIDES section. Dropped the 'Z32 Changes' page... Straight from the Department of Redundancy Department, which wasn't good from the start.

10-10-97 5:12pm:
Well, ICQ sure has exploded from TT.com... everyone here in Dallas is out of town, or very quiet. Michael Doan is already on the trail to hi-performance again. He's waiting on headers from Stillen for his NA. I'll get him on the dyno to find out the whole story. Talked to Kyle on ICQ. They went out & raced. He got a 13.08 on the G-Tech. If I remember correctly, that translates to a 12.08 in the real world... Damn fast!

Page News:
Started a 'Visitor's Rides' section in RIDES, Kyle's Z is first up for his trip up from Houston with Edward last month...

10-6-97 8:10pm:
OK, OK, OK... I've been extremely busy. My one employee under me is going in for surgery tomorrow, so I'm swamped. Anyway, this weekend was very cool. Left Dallas @ 8:30 got to Houston around 12:30. Missed Blair & Edward @ the Pro-Am car show, but did find Kyle. Met & saw a few of the local Houston Zers. Pretty nice perf. shop too! Kyle & I went over to look at the Cobalt Green TT. Pretty clean, but, well, now I remember why I won't work with a dealership on a new car... JeeZ! Talk about hard sale. 'You know how hard these things are to get now?' YES! 'You sure you can afford the insurance kid?' UH, I'M NOT A KID & I'VE BEEN DRIVING ONE FOR 2 YEARS NOW! 'This thing is 100%, my buyer is great & my shop checked it out. It's perfect' CAN YOU EXPLAIN THE BODYWORK ON THE REAR CORNER THEN? What total morons. Kyle & I packed it up & split... Does anyone have a bad-ass clean '94-'95TT w/ low-average miles White with black leather that they want to sell so I can stop looking at these car lot wagons (although this one was the cleanest I've seen, it still isn't good enough...I'M PICKY!!!!)????? OK... that's over with... Drove to Austin @ 5:00 w/ Kyle, his fiancé, & Edward. Met up with David & the Austin bunch @ 7:00ish. We got rained on halfway, so we weren't the prettiest there, but, well, we were there. I think there was 7 90+s there when we arrived. Then some came & some went. David said there should have been 4 more there. Very cool! Thanks to Mark @ Reigning Performance for having us out (hospitality w/ soft drinks & pizza!). Nice shop too!!! Well, as the conversations went along, it was decided to go racing after 10. Kyle wanted to do G-Tech trials w/ his Stage VII (Pics upcoming!), but couldn't (didn't want to?) get traction with his rear tires, so David offered his rear racing tires. Load 'em up, we're going to David's to change rear tires!!! Well, they changed tires while Edward & I talked to William (His car is every bit of kick-ass as it looks, I like the 'Z' slotted Plexiglas over the amp!) Won't discuss topics, but it was funny! On the way back to the parking lot, Edward got William to pass us @ speed & shift hard, so we could here the blow off valves work... SSSsshhh!!!! Yep, need those too! I decided to split @ 10 to get home for last call in Dallas. They went to run around N. Austin & do G-Tech trials. Haven't heard the results yet, but I'm sure it was interesting! Can't wait to hook up with all of them Nov. 16th in Baytown for the import shootout!!! : )

Page News:
Got the Alamo Dyno Day page done! Check out Jan's license plates! Hahahahaaaa!!!!

9-30-97 7:03pm:
TTZD meeting scheduled for 7:00pm. Here I sit, waiting for my clients to give the final thumbs up on their project... I looked over at this page from TT.com & realized I hadn't updated. Sorry. I'm halfway through the .AVI process as of last night. Didn't want to get anything started tonight. Soon, very soon! Got mail from a guy here in Dallas with an SR-71 kitted TT. Can't wait to see it! Speaking of seeing, I finally got back the roll of film with Alamo Dyno Day & other stuff on it. Last time I buy a roll w/ 36 exposures... takes too long to get through it. Also, I'm looking at a Cobalt Green TT with tan leather here in Dallas, while Blair is looking at the identical twin of it in Houston for me. I'll get e-mailed pics from him of the car in an hour. Damn, dunno where his generousity ends, but it's out there a ways! Thanks a bazillion Blair for your help!!! From what he's described, sounds like I'll have to make that long trip to Houston (anyone want to loan me a Valentine 1 & a pair of binoculars?) at very high speed. Blair says there's a car show on Saturday, might as well make that while I'm there. :)

9-23-97 6:10pm:
Sorry, whole week w/o an update. I've been busy/sick (AVID installation/sinus infection, same difference). Where to start... Michael got shed of the '95. Now he's driving the '96. We'll be going to pull performance parts off the original NA this week. Last Thursday, Kyle & Edward came up from Houston for the ZCOT meeting. Very nice guys. Ended up talking way too much in the parking lot afterwards, didn't get to go out & have adult beverages. They came up, attended the meeting & then went back, 3.5hrs each way. Kyle did get to street race with Jeff's Supra. Kyle won with NOS problems, but Jeff apparently had traction problems... I guess we'll have to have a re-match at the Import Drags in Oklahoma next month once both problems get resolved for full speed head to head racing!

Page News:
Couldn't let a week go by with no additions... Couple new dyno charts: #5, 22 & 23...Steve Simmons', Marco's & Michael's from Alamo Dyno Day.

9-15-97 5:55pm:
Wow, weird weekend. Michael now owns 2 black NA Zs. A '95 with 32k miles (Identical to the first one) & a '96 with 9k miles. He'll be returning the '95 this week... Steve Simmons' Z got taken for a joy ride while he was out of town this weekend. The police caught the kids after they drove the car over a curb & ended up in the ditch. He hasn't seen the official police report yet, but he says it needs an alignment, some tranny work & some minor bodywork on the front end... I guess it could be worse. Finally, I went out with my girlfriend to a friend's BBQ on Saturday night & out of 10 other people, Mike Thomason happened to be there with his girlfriend. Today's e-mail title: It's a small world after all.

9-11-97 8:30pm:
Michael's NA Memorial page is complete (including paparazzi pics). : ( Got times from Fastest Z in Texas for the guyZ. But I've only got 2 pics so far. They were more into dragging than documenting the event, I'll see if anyone took video, I can get snaps out of that. Still putting together the Alamo Dyno Day page too. Slowly but surely...

Page News:
TJS 06R Memorial page sadly added.

9-6-97 7:27pm:
Yesterday was a very sad day for TTZD. Michael totaled his NA (our only one) on the Tollway yesterday morning. :( He is OK, but his Z is at the Hooters car wash in the sky... He was braking hard & had the left rear lock up on the damp road. He went into a spin, got airborne & hit the median wall. It is amazing how well we are protected in the Z32. I've heard more stories about 'and he walked away...' regarding the late model Zs. In typical tabloid fashion, TTZD will have wrecking yard pictures & a retrospective of it's brief life as soon as the paparazzi get me the pics. In other news, a few members of TTZD are at the Fastest Z in Texas drag races tonight. Unfortunately, I have a business function to attend. :( I'm also finally getting those rolls of film developed for crank angle sensor pics, engine removal pics, Alamo dyno day pics & more. Too much to do right now, but it's coming!!!

Goodnight Stage III NA... We are sorry for your loss Michael... :(

Page News:
Russell has provided me with verbage for the Rotor Replacement page, so it's up now.

8-31-97 11:00pm:
Had a great time at Alamo's dyno day. We had a turnout of 8 TTs from TTZD (oh, yeah, our 1 NA came along too) & 1 from Oklahoma City. Paul Tague happened to be in town on Saturday, so he and a friend of his came out to enjoy the afternoon. Rich is much happier with his latest curves after seeing Steve Simmons'. They are pretty much identical. He still has safety boost problems though. Even with my horrible directions (Collins, Cooper, aaaaah what's the difference?) to Alamo, I think everyone that was going to show, made it there. Will have some wonderful pics & new dyno charts from this. There is a lot to see at Alamo... A few Zs in various states of rebuild. Also turned into a swap meet. I traded my crapped out turbos for an SPI boost gauge & A-pillar mount, & got rear BlOSE speakers from Steve Simmons. My Z is back together & running better than before. No more smoke! Look for a TECH page on this, I'll try to explain it with the few pictures I did get. ; ) Also, gutting the pre-cats seems to allow the car to wind up faster. I could be wrong, I've been driving a full size Chevy truck with Flowmasters, K&N intake & different rear end ratio for the last 3 weeks, my judgment isn't back to back... Fastest Z in Texas, I came to find out, is actually on the 5th, this Friday. I might not be able to make it, as I work later in the day than most (uh, to be fair, I also get to work later than most. : ) ). Russell just sent me his digital pics of Alamo (downloading in the background) & some brake/rotor work. I feel another TECH page coming up!!!

8-26-97 5:03pm:
OK, lots of stuff happening as of late:

Turbo Replacement-Got the engine out by myself on Monday morning. Parts came in on Wednesday. ZCOT meeting on Thursday. Spent all day Saturday wrenching & snapping pictures. Michael & Karl came out to help. Michael is now qualified to teach master classes in pre-cat gutting (even though he can't do it on his own NA). Karl & I stood around scratching our heads about how to get the engine back in... Had to manufacture some slingers to drop it back in, but still couldn't get the angle right with what Nissan recommended. Karl told me it couldn't be done by just us & we needed a group out to muscle it in place. I went & ate dinner, watched some TV, then returned to figure it out. I made it a three point lift & installed the engine myself Saturday night. I refuse to be beat by Nissan engineering. :) Sunday was spent reattaching stuff on the bottom end. Then last night turned into a carshow. Karl, Rich, Michael, Brent & Darren (modded 'Vette) came out to visit. Brent's hood was open so I could see where all the wires & hoses go. Lots of bench racing happening... It was pretty funny. Everyone left after I was confident I knew where everything went, but Karl stayed to help install turbo hoses etc. I should be finished with it by Friday. Oh, yeah... I made one huge mistake along the way. :( No film in the *$%@#*& camera. I've tried to recover, but now I have no pics of the engine out, or of how I got it back in.

Dyno Day @ Alamo-August 30th will be interesting. First distance voyage of DAMON Z after turbo replacement... Might have to run on the dyno. Steve is giving us a good rate on dyno time. This will be the first large gathering of TTZD in awhile, followed by...

Fastest Z in Texas @ Ennis Motorplex-September 6th. Here's the scoop! $12 to pit & drag $7 to watch. All drivers must wear long pants (blue jeans) & a sleeved shirt (T-shirt). If you can run under 14 sec. ET, a helmet is required. Gates open @ 5:30pm, driver's meeting @ 6:00, & dragging begins after the driver's meeting. This will be humbling... There are some serious early Zs out there. I want to see what 'Stealth' (Steve Webb's Z) can do. He can get the attention of a 900cc bike out on the highway, it'll be interesting to see what it does in the 1/4 mile. I might have to get it on the page even if it is a single turbo!

Page News:
Got dyno charts from Marco, Samuel & Michael this past week, they're on the Dyno Charts page. Added Steve Simmons' For Sale list. Also got Marco's page up.

8-20-97 7:30pm:
No Blair. :( Oh, well, waiting for Fastest Z in Texas date... Looks like we might have a crowd! Another Saturday @ Alamo is coming up! Paul Tague will be visiting in a couple weeks. I think he's one of two TTs in OKC, he wants dyno time @ Alamo so... The turbo replacement has turned into an engine replacement (very well could be). I decided to pull the engine to make it easier (strange thinking, huh?) , I can't figure out how people can do the left side in the car. It's way too compact... I'll say this, I'm impressed with those that do!!! Taking lots of pics along the way. It will be a huge page... I think my pre-cats will lose their internals while I'm there. Spent some time on the phone with Steve Simmons asking questions about what I thought I was doing. He told me about the bench engine he's building up. Be afraid, be very afraid!! :)

8-15-97 3:30pm:
Blair from TT.com might be in town to buy his TT from Courtesy tomorrow. Waiting to see if this is true or not. Supposedly, he bought a green '94 off their lot. Very clean... Found out from Steve Richardson, happened to be putting money in his hands for turbo parts. $120ish for oil lines & water hoses. Oh, well, want it 1st class. Might be some 1/8 mile action in Denton tonight with the 'vette guys...

Page News:
If it isn't obvious already, TTZD received a facelift. Special thanks to Brandon Oldenburg for his logo treatment. Much better than the Photoshop text thing I had going on... Thanks Brandon!!!!

8-13-97 10:10pm:
Turbo replacement is a slow job, no wonder no one wants to do it! Looks like I'm going to pull the engine... Just seems simpler that way. Got a cool little prog. from Gary T (FL) called ICQ, if anyone is using that, my UIN is 2660074... we used it to discuss the turbo swap, as he's done his without pulling the engine. Don't know how much chat time I'll have, but I might find some way to incorporate it into the page for others to use. : )

Page News:
Finally got the Hooters pics up! Also added some more pics to the Mr. K page...

8-10-97 11:30pm:
I must be crazy! I should have paid someone else to do the turbo replacement. Everyone I asked about it just shook their head. 'You got a lift?' seemed to be the most common question asked. Well, for the $1000+ it would cost to have them professionally installed, I'm halfway to buying that lift. : ) Michael showed up to find me shaking my head after spending the first half hour under the car looking at it & wondering how this is going to work out. I was about to trailer to someone else when peer pressure kicked in. Wrench in hand, off I went. Now I know what antifreeze & synthoil taste like individually & mixed. YUMMY!!! Glad I was wearing that Dallas Cowboys T-shirt, I didn't like it anymore anyway. It's mostly bathed in synthoil too. Yech! One thing I have learned is for once, I think the installation will be EASIER than the extraction. Everything won't be wet & slick... This definitely isn't for the average shadetree mechanic & is a superior reason for buying that extended warranty (don't buy GE Capital though... TTZD does not recommend their policy for performance cars) & letting someone else cuss at your car for awhile! Should make for a nice page, pics of battle wounds & all. Oh, yeah, got the pics from the Hooters car wash & pics of Rich, Michael & myself with Mr. K. I'll get 'em up next week.

8-8-97 5:30pm:
Got my turbos in yesterday for my Z. Fresh stock ones (I'm selling the car, check the FOR SALE page, otherwise it'd be Sport 500s). Got help from some other TTZDers to do the install. Actually going to remove them & gut the pre-cats this weekend, then install the new turbos next weekend. Don't worry, I'm finally going to finish that roll of film off... with pics of the extraction/installation. Also going to get pics for more RIDES pages. Hopefully, some more dyno charts too! I feel really silly for not having remembered the Z32 changes list is already on TT.com's Specs & Info page... Oh, well, send me info so I can update it. : )

8-4-97 7:37pm:
Well... Starck Club... hmmmm... It was Trash Disco with a live band playing Bee Gees tunes, wearing fake foam afros. Couldn't handle it very long & went elsewhere. Lots of racing action this weekend, Russell beat a modified '95 NSX. Karl & Rich raced Firebirds... stomp & stomp again. My girlfriend dogged an '87 300NA on the highway in her BlaZer on the way home from the club. He acted like he wanted to race me in my Z... dunno what he was thinking...

Page News:
Added the Z32 Changes page in the TECH section. I got it off the IZCC list. It's incomplete & I'd like to flesh it out more, so take a look & see if there's anything you notice different about your Z, let me know!

7-31-97 7:20pm:
It's here!!! The timing tweak is released!!!! Thanks to Russell for putting it in words. ; ) We're all ganging up at the Starck Club (a Dennis Rodman joint) tomorrow night. Ought to be interesting... Rich is still having safety boost problems, even after Nissan said everything was good. Any suggestions??? Uh, that's about it... kinda slow this week.

Page News:
The Timing Tweak page is up under TECH... The picture that's not there will be a lovely photo of the subject of adjustment, the crank angle sensor. Sorry, still haven't gotten the film developed, next week... Also shortened this page for quicker download, the old news can be found here.

7-29-97 7:15pm:
Looked at a emerald green '95 TT as the new replacement for my Z... I wasn't thrilled with it though. I can tell I've been spoiled with the Z I was dealt, I'll be a hard sell now. :-( Karl said, "First impression is usually the right one." When I saw my Z, it was 'love at first sight'. I'll pay that extra 10% for first class. Oh, welcome back Karl & Russell from York! Haven't heard all the stories yet, can't wait though. Russell set me the timing tweak page late today, gotta htmlize it. Should have it up shortly (yeah, promises, promises). Anyone need a JWT ECU & cal-jets for stage III? Trade for stock turbos...

7-24-97 8:35pm:
Lots of mail coming in for timing questions lately, I'm working on the 'timing tweek' page now. Hold tight! It's coming! Actually Russell says he'll tackle the job for me. :-) Lots of people discussing it on TT.com, so we'll cover it to clear up some of the questions as soon as possible.

Page News:
The Air Guides for Rotor Cooling Installation page is now linked in the TECH section. One more down, plenty to go...

7-23-97 12:50pm:
Getting tons of hits after going 'public' on TT.com. Thanks everyone for visiting. I've slowly got more info on the way... Locally, got e-mail from Edward in Houston wanting to get some Houston Zers together with the TTZD. I offered up the re-schedule of The Fastest Z in Texas event @ Ennis Motorplex. Sounded good to him, now I'm waiting for a firm date to set that up. Rich & Michael went to the Hooters charity car wash on Saturday. I don't know if I should post any objectionable material here. :-) Appearantly, they had a great time & got some pics of the event. Both said they re-washed their cars once they got home. Rich said his was one huge waterspot. Well, they don't get paid to wash cars, but wouldn't that be a busy carwash???

Page News:
Factory Air Guide Installation page is being proofed now & should be up by the end of the week under TECH. Updated the FOR SALE page.

7-18-97 6:40pm:
Very odd ZCOT meeting last night. I don't think our guest speaker got a good idea of how the meetings usually go. Mr. K did bring in a crowd last night though! Over 140 member/guests/new fiancés in attendance. I got my Z paraphernalia signed by him as well as some photos with him. Michael got his owner's manual signed. Very cool. I wanted to get him to sign my dash with a white paint pen, but by the end of signing so many things & getting his picture taken... he looked tired & I didn't want to bother him. You could definitely see the mischief in the 88 year old's eyes! Father of the Z? Yeah, I can see it!!! Rich showed up for his first meeting in long time (if ever?), so we packed up after the meeting to go for adult beverages & some of the worst pool I've ever shot. Too bad those 3000GTs didn't want to play on the way over. Heh.

7-14-97 7:00pm:
Alamo was rather uneventful, Jim & Jeff didn't come out to play. Jim has the top of his engine off right now, so that limits his ability to run on the dyno. : ) Rich wasn't able to get the safety boost problem diagnosed. We have drawn a correlation between Rich & Karl's safety boost happenings. Seems it does it when the car is cruising & throttle is gradually applied, not allowing the turbo to assist in engine operation. I think this is the most likely time for detonation to occur, as the engine itself w/o turbo assist has to do the job of acceleration... Rich took all the dyno time, so Michael didn't get to make any Stage III runs on his car. I spent 2hrs yesterday installing front air deflectors to get more cooling for the front rotors. Most people overlook this design change as a means to stop rotor warpage (which for whatever reason I've never dealt with), they all want to blame the Al calipers. I'll have those pics up tomorrow. Marco & Samuel will soon grace TTZD with pics & dyno charts hopefully by the end of the week. Marco has some comparison charts of N5 vs. N6 NGK plugs, radical performance difference according to Marco.

7-11-97 2:00pm:
Going to Alamo tomorrow. No Ennis tonight...Rich is having safety boost problems after installing his new Stillen intercoolers so he won't race me. :) Texas heat doesn't help, as the rest of us are experiencing the same problem too. Hoping to see Jim & Jeff Short tomorrow. Jim has a Stage VII (I want to see it run on the dyno) & Jeff recently bought his in MONTANA & drove it back to Dallas. He's already AutoX'ed it!

Page News:
Doubled the amount of dyno charts in the TECH section. All from House Siebert. Mark's Stage III with gutted precat charts...

7-7-97 6:50pm:
Had a good Fourth of July with Russell, Karl, Michael & other assorted girlfriends, fiancés, roommates, friends, no relatives...excluding the Sieberts, on sight you can't tell they're brothers. :) Blew stuff up @ the ranch. I don't think the grilled (or lack thereof) chicken claimed any lives. No new Z G-Tech times. The Jeep does 17.11 @ 82.1mph though. Michael finally got the B&B for his NA. Very noisy. Ennis is still on for this Friday. Might caravan to Alamo on Saturday. Michael needs to complete his battery of dyno runs, including a comparison of the AC on vs. off. I guess in an NA you worry about these things...

Page News:
Now Brent & Russell are in the RIDES section. Russell takes the lead in total mods. He's one of the few with enough sense to do something to slow himself down faster as well as accelerate faster. :) Getting a pile of dyno charts from the Sieberts to add the the TECH section.

6-30-97 6:55pm:
OK, so I don't have any G-Tech times today, Sorry. : ( But I have done some work on the newly added TECH section. : ) 7-11-97 has been tentatively set for dragging at Ennis. WWW.Weather.com doesn't forecast that far, so we'll have to wait to see if it'll rain once again.

Page News:
TECH section has been added. Right now it's just an easier way to view specific dyno sheets, instead of having to go through the RIDES section. They are still attached to their cars too. I'm still working on the rest. Should have more rides up shortly too.

6-29-97 10:43pm:
ZBBQ tonight. Michael, Rich, Tim, Mike T. & Jeff Smith came out to the ranch to grill cow etc. Then went out to a nice strip of road near the ranch & ran G-Tech Pro trials. I'll post results tomorrow. I managed a 15.15 @ 100.4 1/4 mile Thursday night. It's slow 'cause I smoked the tires in 1st & 2nd... My Jeep Cherokee Laredo 4.0ltr does 17.76 @ 78.6. : ) Rich's B&B 3" isn't as impressive looking as the HKS previously installed, but sounds AWESOME & I'm sure performs better as well. Michael gets his this week. He's going to make dyno runs with his A/C on & off to see the difference in power. I'm trying to get some technical stuff on here... AIV fix pics & adding factory air deflectors for cooling the front rotors.

Page News:
Michael Doan's RIDES page is linked now. Also pics of the Original Damon Z & more pics of the current Damon Z.

6-24-97 7:02pm:
Made a cool animated .gif file... see it here.

6-23-97 6:25pm:
Welded the exhausts on Karl's car to avoid theft. It would only add to his recent bad luck if they were stolen... The rear tires should remain behind the front ones. :-) ZBBQ at the ranch got canceled due to rain. The trip down I-45 with 'Mad' Mike Taylor Saturday morning was also rough due to rain. Karl says he had a death grip on the handle of Michael's car while speeding back in the rain. 130MPH?!? Good tires for sure! Rich & Michael get their B&B Tri-Flows this week.

Page News:
Well, got Karl's ride page linked. More cars are waiting for approvals. Also all the .AVI zips on the Z Heritage Parade page are finally uploaded & linked (whew!).

6-16-97 6:40pm:
Finally get the Z ride back this week (maybe). Warranties suck when it comes to aftermarket parts. The good news is Brice @ Alamo Autosports might buy the car for a project car. Rich went out there this weekend & got his Stillen intercoolers installed. He now qualifies as Stage V. Stillen considers twin POP to be a stage by itself. He'll be Stage VI with an EVC! He & Michael are getting B&B Tri-flows too. I need a '94-'95 & get to Stage V quick to keep up! We'll probably go to Malibu Speedzone this weekend. It replaced Malibu Gran Prix & Castle Golf & Games on I-35E. Looks interesting from the freeway.

6-1-97 1:11pm:
Alternative racing last night! Some of us went to race go-carts on an indoor track last night. I couldn't make it to that, but did go to the BBQ afterwards @ Russell & Karl's. We'll probably do it again next Saturday. Hoping to go dragging Friday @ Ennis. We keep getting rained out. Gives the vette guys another week to prepare. I'm trying to get my car out of the shop this week.. : )

Page News:
Download TMS1.AVI of us on the track at Texas Motor Speedway. Very cool... I still have to get TMS2-4.ZIP uploaded. These three will only stay up for a limited time...

5-30-97 9:50pm:
Yow! Hadn't updated in awhile. My Z has been in the shop for 3 weeks now. : ( Burned valves... Very looooong story that I won't bore you with. I did still go to the Z Heritage Parade at Texas Motor Speedway the other weekend (check out EVENTS for pix). Some of the other TTZDs tried to go down to Ennis for the Fastest Z in Texas competition on the 23rd, but got rained out. We're trying to re-group & drag just in TTZD, against some VETTES! Whoo hoo! Rich W. works with a vette guy that's modding his after accidentally running against Karl. Small world... So the group is planning to go out again sometime just to see how fast the quarter mile can disappear.

Page News:
Z Heritage Parade @ Texas Motor Speedway in the EVENTS page. Can't upload the .AVIs yet, my FTP is giving me problems on large files. : ( But they are super-cool, especially TMS1.AVI! In car camera on the track!!!

5-12-97 8:10pm:
Weekend Update: Went to Alamo Autosport with Rich, Michael & Dhruva (VW GTI). Spent about 6 hours there! Steve Webb was a great help. We diagnosed a few problems with my Z. First off, my curve has gotten much flatter...Alamo has high pressure fans for the intercoolers, this helps for top end hp. Second, my flowmasters need to go!!! We unhooked them after the presilencer, & gained 15hp! & last, we found out that the intake hoses for the turbos were loose. Tightening them required a real cool-down, so I'd do them the next day instead. Still shooting for Russell & Karl. Rich & I got to drive Mike Patterson's Stage V. Wow! I've got to have one!!!! Thanks Mike! You've ruined my pocketbook!!!

Page News:
Check out the Dynopalooza page under EVENTS for Marco's digital pics!

5-9-97 7:25pm:
Still evolving...Working on a title banner. Got the pics from Marco for Dynopalooza, gonna get that up & going shortly. Trekking to Alamo Autosport tomorrow. Gonna find out my boost level. Anyone know of a 0-30lb boost gauge with a tell-tail (peak hold)??? Let 'ya know how things turned out. On TT.com BOBBY (AOL cap lock syndrome sufferer) seems to be having the same problem I am. I wonder where his dyno measurements end up at....

5-8-97 8:55pm:
Let me know if any colors are wacked out, I'm still getting used to HTML stuff, looks good on my box. Kids, don't try this at home! Added my car to the RIDES section; dyno sheet & gauge cluster @ 120 MPH. Cool! Sorry about the size, I'll do thumbnails soon, rushed for time, just wanted to finish. Visit the 'For Sale' section & buy the pipes...you'll love 'em! Now it looks like we'll be drag racing @ Ennis on the 23rd of May. I still need to get my power up. (See the sheet...See the sheeeeet...) >:( Where's the ponies?????

5-7-97 8:30pm:
Revamped to ol' page to look better. Started the FOR SALE page too. Rich, congrats on being the first on the block. Hope you sell 'em! Nothing new with the Z today, waiting for it to rain...then I can wash it (lot of bugs on the bra).

Page News:
Visit the Dallas PD page, see how safe your neighborhood is.

5-6-97 5:33pm:
Going to shift the page's focus more towards TT.com's Dallas participants. I alone don't do quite enough to fill a page & make it worthwhile. I'll try to get participants to log in & post something here. Probably change the look of the page as well. Why not? Makes things a little more fun. Had the door panel off the Z ride to fix a broken doorlock actuator. The new one REALLY locks & unlocks. No bullshit doorlocker!

5-5-97 6:37pm:
The Dallas area TT.com folks are going nuts with e-mail today. Topic of discussion: Rich's smoke screen effect during WOT. Nice black cloud while getting on I35 north. His license plate says it all: Zmokin! Looks like we'll be getting together before the Texas Motor Speedway deal. wOOp! Couldn't quite figure out what happened @ 35&635, some construction something or other that I got caught in. Everyone else went further north on 35

5-3-97 5:20pm:
Home from the Dynopalooza! I've found out my car is running way rich at the upper revs, & my curve isn't flattening out @ high RPM. I gotta find the answer, 'cause I'm down 30hp. My car actually measures 279hp. It should be @ 310hp. :-( Thanks to Chris @ Team Dynotech for having us out to run today (for only $35!!!), I've now got documentation on my true power (it'll get better!) I also got to meet all the Dallas participants in Twinturbo.com. Russell, Karl, Brent, Marco, Michael, Samuel, & Rich. We had a great time. Marco was shooting pics with his digital camera, & I had my 'snappy' camera. I'll post 'em as soon as I get them scanned. My dyno results too!!!! Unfortunately, John Carmack didn't show... I wanted to see the monster! (the car, not John.) I had the T-tops off all day, now I'm sunburned on one side of my face. Ouch! It was very cool to have a long string of TTs (& 1 NA@180hp!) rolling through north-west Dallas. Our next meeting will be the return Z kick-off at the Texas Motor Speedway. We get to drive on the track, although only a parade lap. It'll be interesting to see just how steep the banking is....

5-2-97 7:49pm:
Just got off the phone with Karl. We (along with his brother, Russell) will be going to the Dynopalooza @ Dynotech tomorrow morning. John Carmack of id software will have his car there...1000hp Ferrari F40!!!!! Maybe some magazine exposure as well. We'll drag a pile of local Zers to the place, maybe six to seven of us.

---
© Twin Turbo Zs of Dallas - All Rights Reserved 2000